Hi,
Besides my guitar I'm also making tube amp (and soon I'll start making tubescreamer 808). I'd like to share few photos and expiriences with you guys.
First, I came across great site ax84.com with NO electronic knowledge nor expirience. Abaut the same time I got dissapointed by my new MG15DFX amp (shitty solid state marshall) so I began researching. Since I play only in my bedroom I need good tone at really low volumes do I decided to go with Firefly 1.5W all tube model from ax84.com.
After 2 months of reading I felt that I'm ready to do it, so I ordered parts from UK, Germany and USA. I found some old dusty chassis that could work in my basement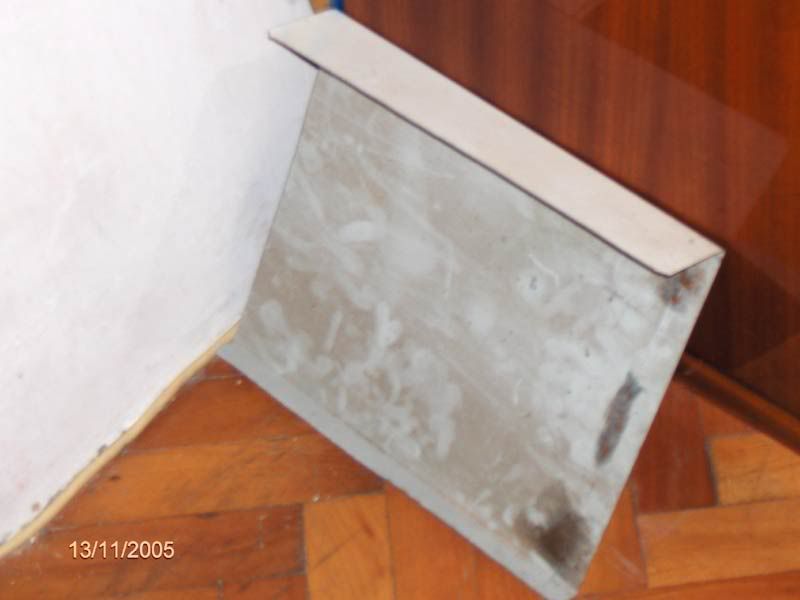 and after little modification and painting it was decent amp chassis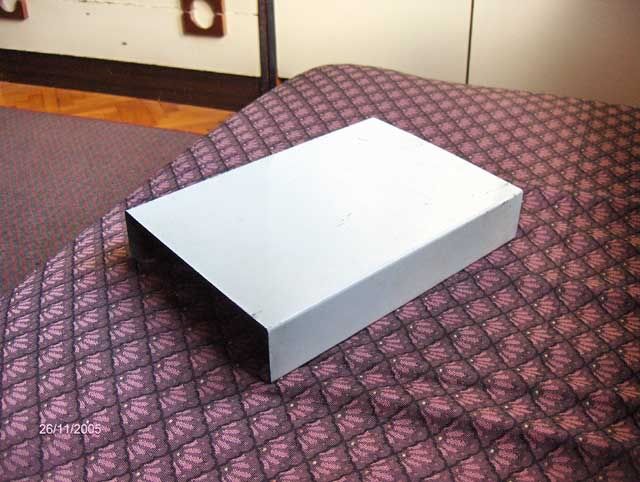 I made custom front and back panel in plexi-glass, first designed it on my computer and then sent it to one local company that does laser engravement and cutting. It costed about 8$.
I got board material from local shop very cheap and great guy from ampmaker.com sent me wires in different colors sufficient for two amps.
Here's board with turrets installed
and with components soldered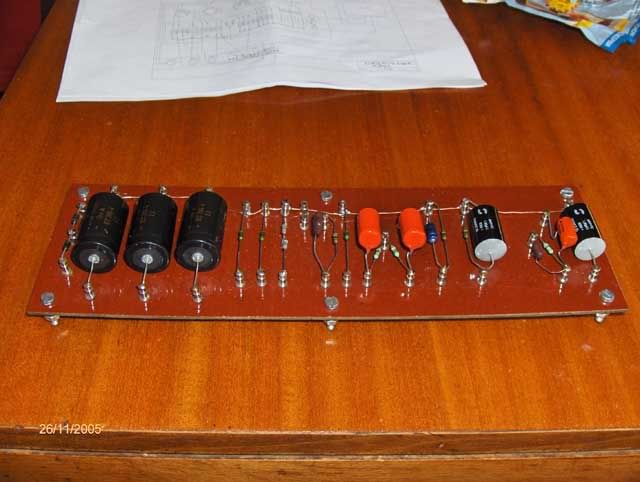 I didn't have soldering expirience and solder wire I got was very bad (plus my soldering iron was 1.5$ I got from flea-market) so connections don't look very nice, but they hold ok
Here are some photos of chassis with panels, knobs, transformers, tubes and panels installed. At this point I needed to power it up for the first time which was little scarry since I had no previous expiriences, and I was aware that if I messed something up I can destroy some valuable components. But first powerup got preety ok, I measured voltages and they were preety much same as in specifications, nothing exploaded and I wasn't killed by hugh voltage-success
the only problem-I didn't have my guitar with me (it's in other town where I study) so I coudn't test if it sounds ok...so frustrating
besides I needed to go back to study for a week.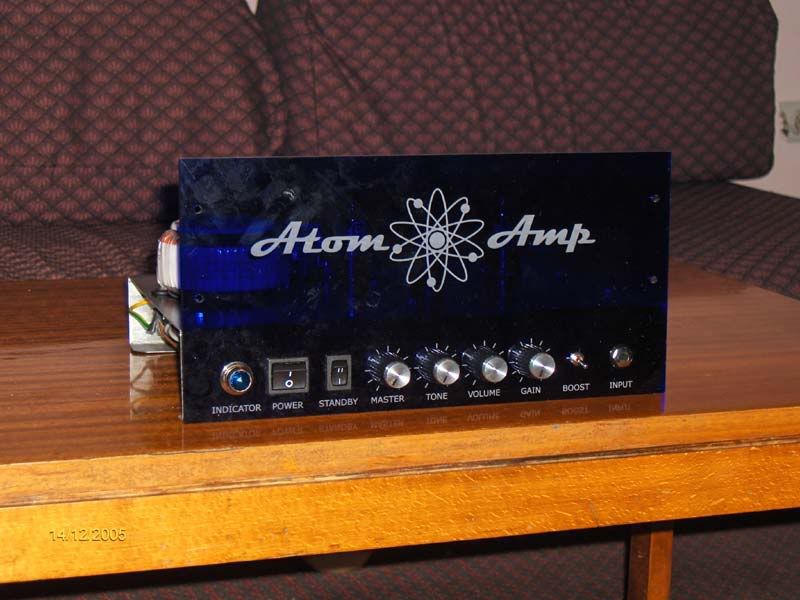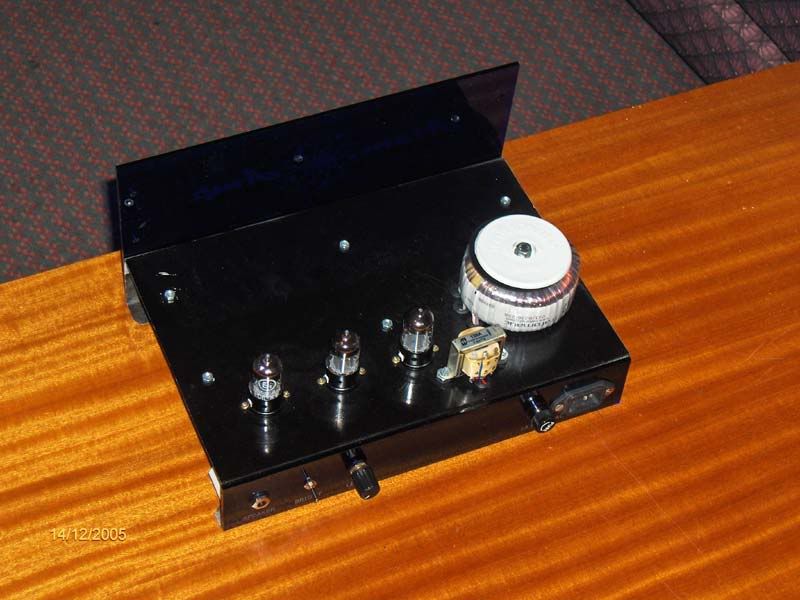 After I finally got back my friend came with the guitar to try it. I didn't make speaker cabinet yet, so I left speaker (greenback 25w 8ohm) on the floor connected with two wires to amp. I fired it up and there was it-SOUND, eureka!!!
Just hum was louder than guitar sound so it was preety unusable. After another week away I got with new solder wire and some instructions from grat ax84.com guys and made some modifications. Again I didn't have guitar so I tested it with my bass. This time hum is gone, and as far as I can tell with bass plugged in it sounds preety cool!
Here are some inside pics: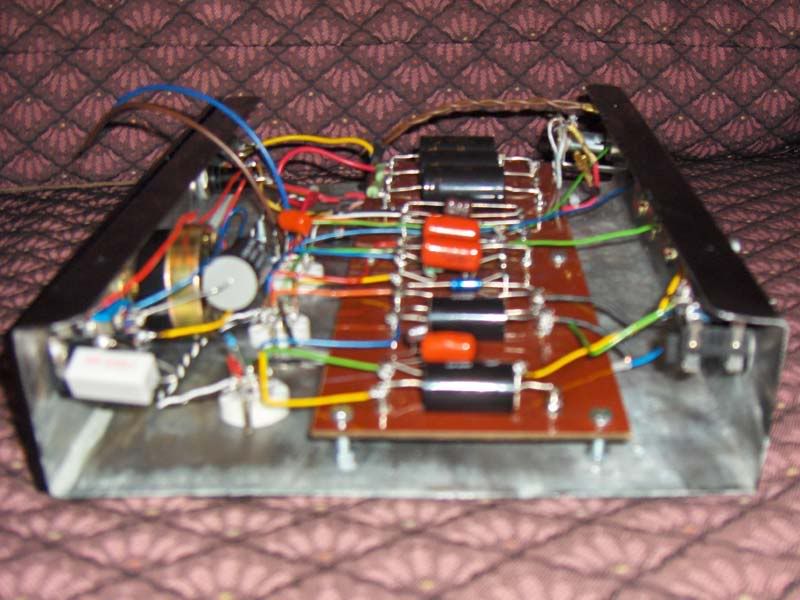 Today we worked on head cabinet, here's the result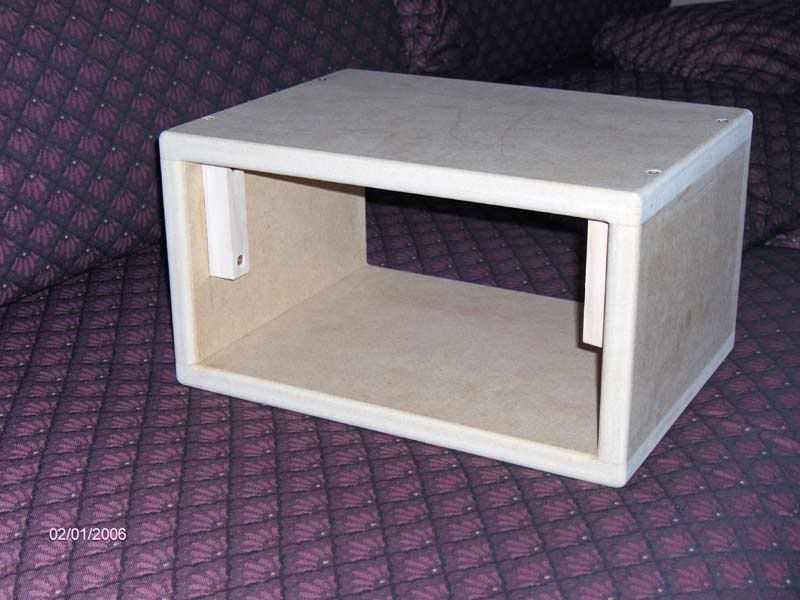 I need to get black spray to paint it, I don't have time nor nerves for tolexing
Thank you for you time, I hope I'll have sound files yet. You can see more pics at
photobucket.com/albums/c22/bancika/FireFly/
Rock on
Bane