lespaulplus wrote:

Manu wrote:The first row was full of people with EVO ticket (mostly foreigners, probably on vacation in the beaches of Murcia or Alicante).
Only 9 EVO and we were all spanish except 2 brits
Yep, my brother and I were those lucky Brits!
What can I say! What a weekend.
After driving back from Arrow Rock the day before I rode down to Spain over three days to meet up with my brother who lives in Spain to do the Evo experience. After 1500 miles in the saddle my bum was killing me
so I was glad it was a standing venue.
When we arrived at Lorca we had no idea where the venue was apart from a picture I had seen on the internet of a castle. So we headed for the hills and looked up.
The site that welcomed us was beautiful but we were unsure if it was the correct place. After making our way to the castle and finding out we were in the right location we were totally bowled over by the site of the stage.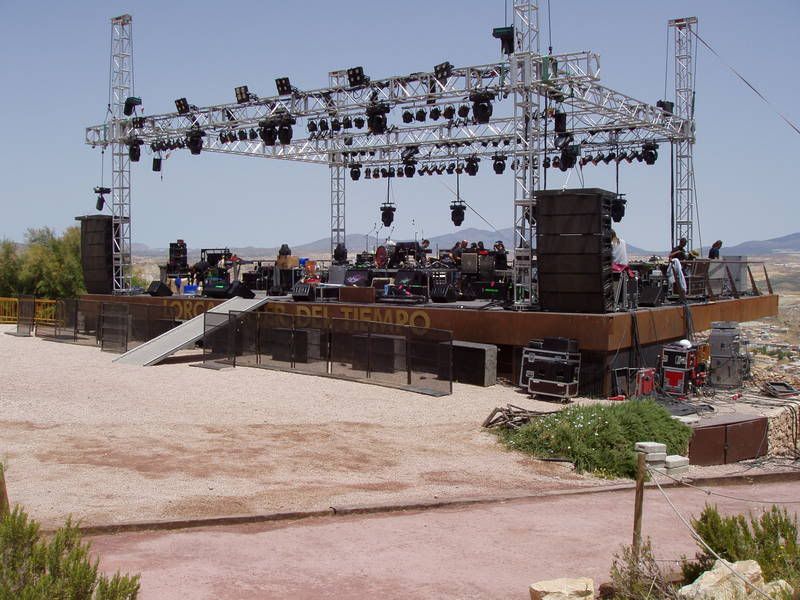 This has to be the most beautiful concert location I have ever been to.
We saw Mikey, Bryan Beller and the lovely Ann Marie (not that you Mikey and Bryan aren't lovely) walking up to the castle and had a chat with them. Evo was running late so we had some time to relax and enjoy the sun.
We met up later for the Evo underneath the rear of the stage overlooking the mountains. It was truly an awesome venue for an awesome event.
Steve was his usual laid back self and it was a really enjoyable and mellow chat. All the other people on the Evo were very friendly and spoke superb English in comparison to my useless Spanish.
We also met up with Dave and Jeremy after the meeting with Steve.
The sound check was also delayed due to one of the trucks breaking down but we were treated to Steve warming up before hand so it was worth the wait.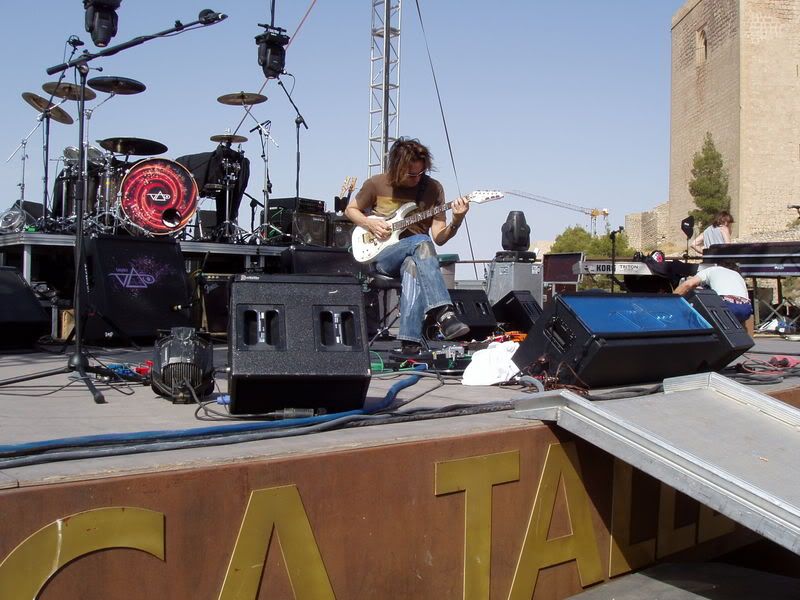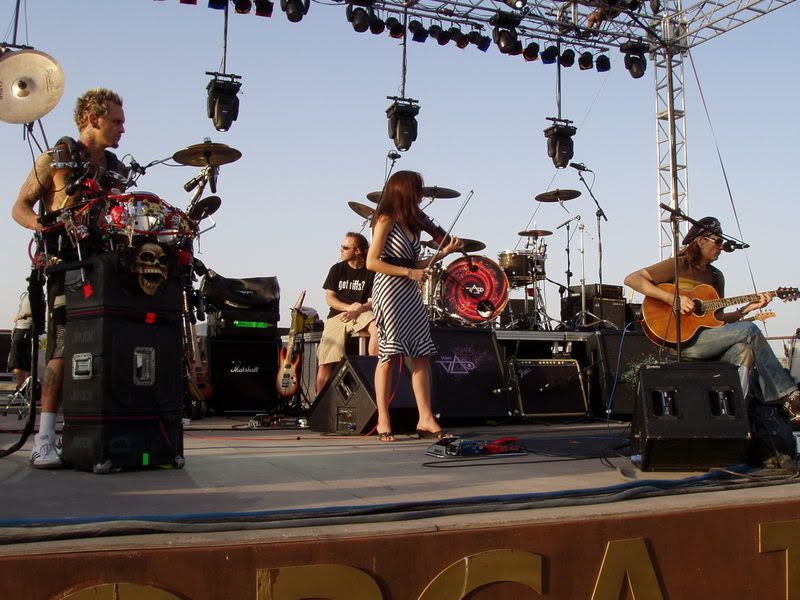 During this Steve handed us Evo and everyone took their turn playing it, admiring it and having their photos taken with it. Then the rest of the band joined in as they went through set up and played through The Audience is Listening a couple of times. Real hairaising stuff!
As for the concert itself......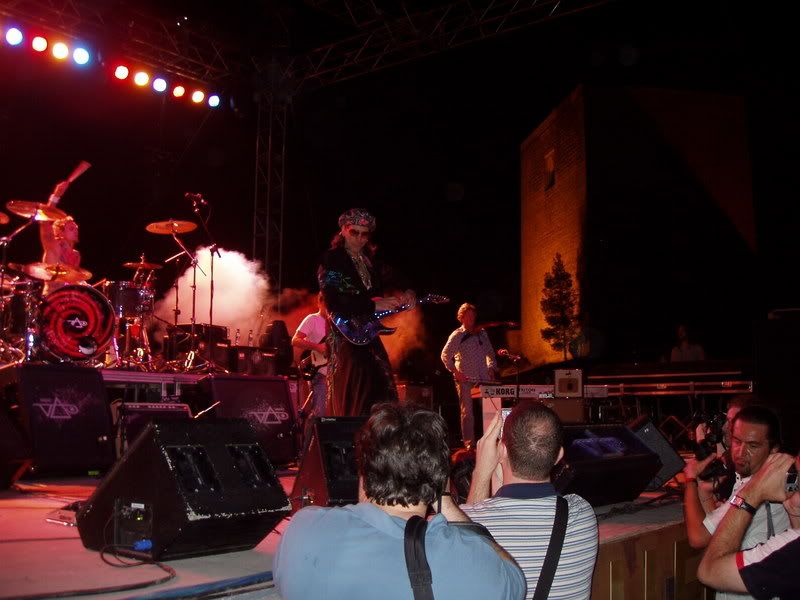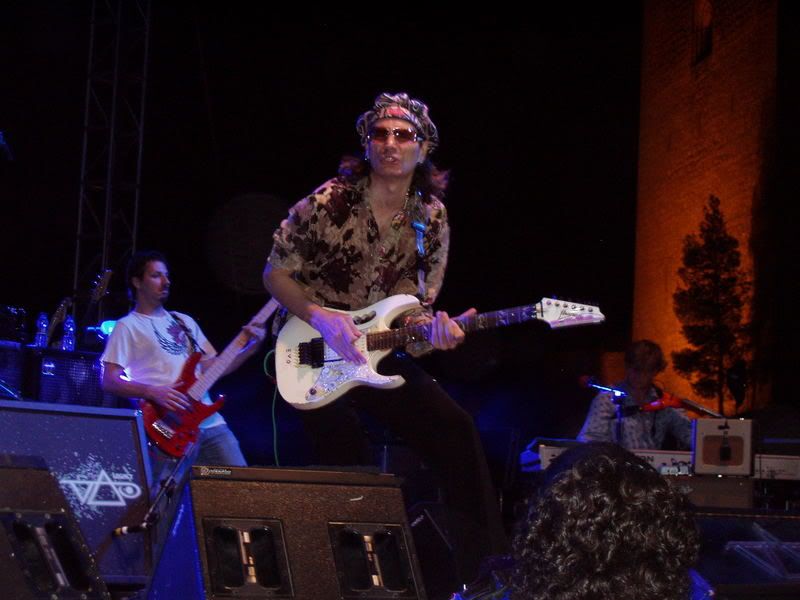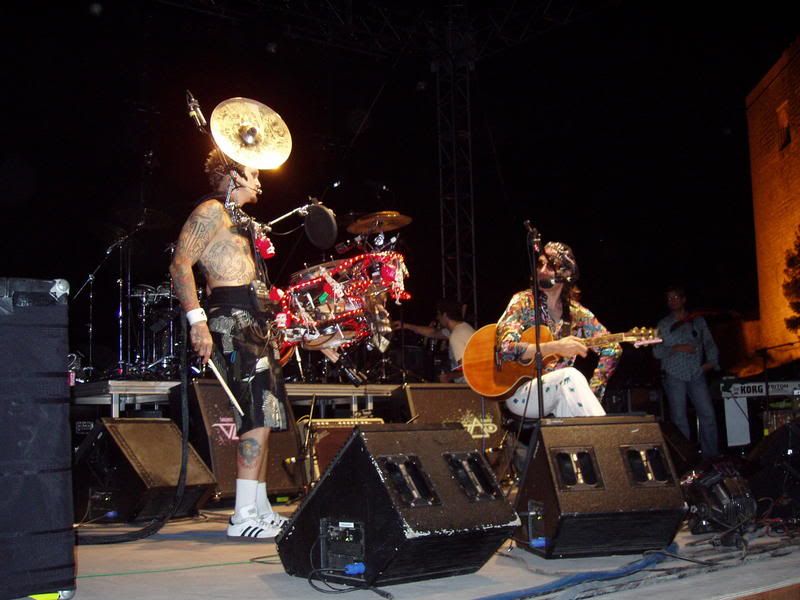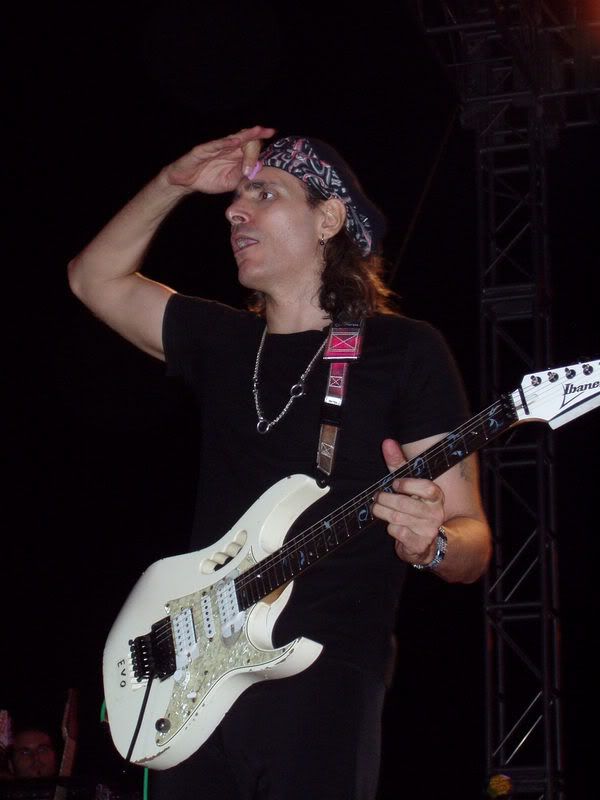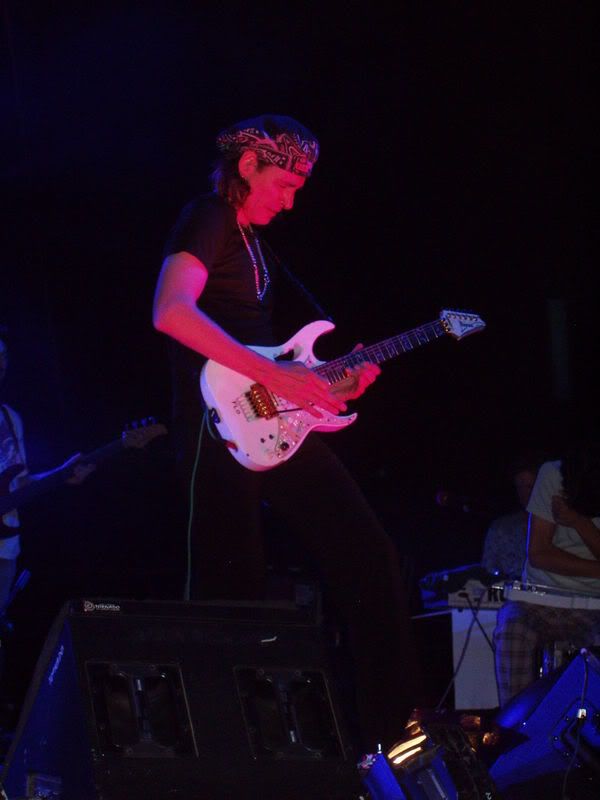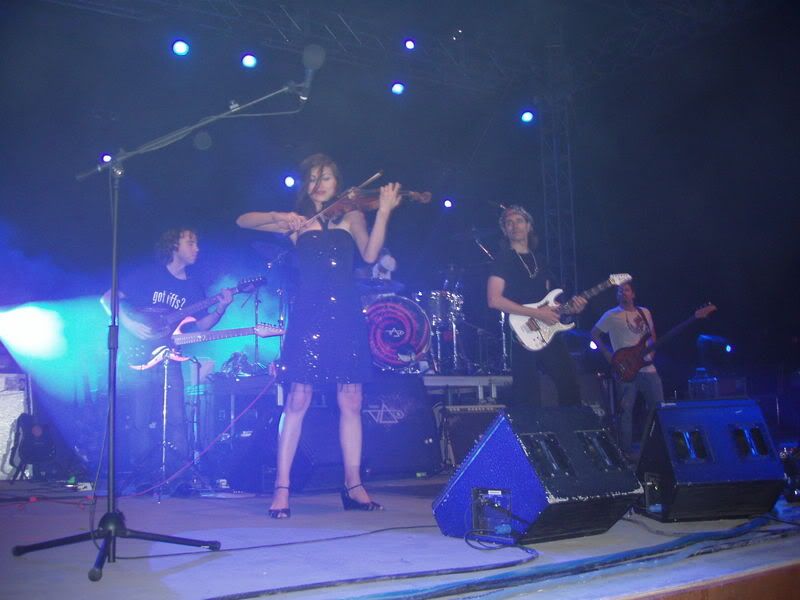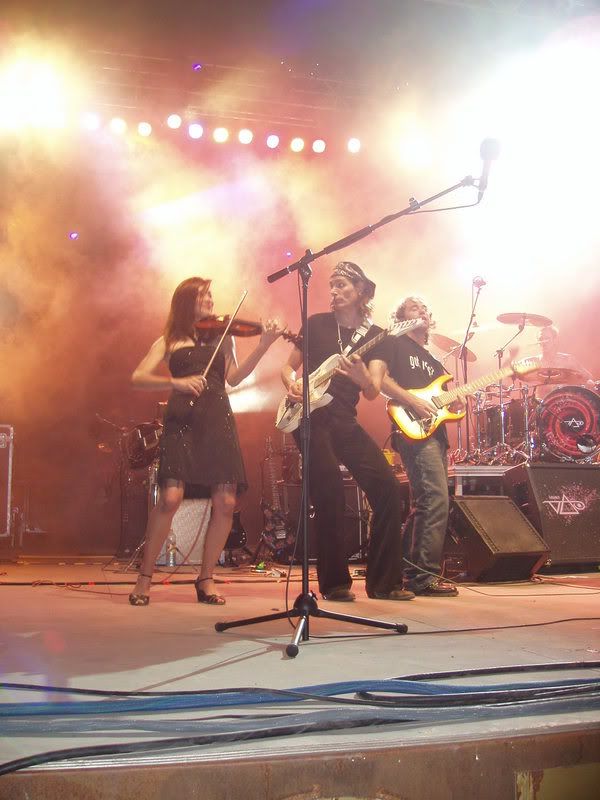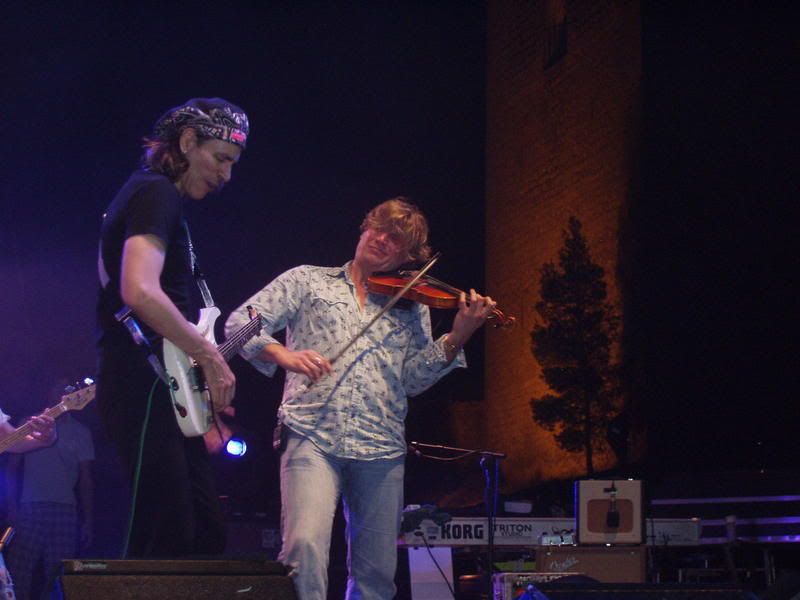 I cannot put into words how good it was. Everyone in the band seemed to be having such a good time, Steve was on top form and the happiness really came through in all of the playing. I am normally very critical of sound quality and I must say I thought it was spot on. Maybe I was standing in the best place but I could hear everyone clearly, no one drowned out anyone else. Even the forced break in the middle didn't spoil it for me (and I hope not for anyone else) and when Steve and Jeremy returned with in seconds it was if they had not been away.
I could not believe the time when it had all finished, had we been in the UK the plug would have been pulled at 10:30 but here we were listening to The Love Of God at just after 1PM!
We had been standing at the front of the stage for what seemed like a couple of hours but what was in fact over 7 hours??? Since the beginning of sound check.
So a massive thank you to:
Spain and the Spanish
for being so hospitable and friendly especially those on the Evo, yet again I have made more friends from around the world thanks to the music of Steve Vai.
The band
, who to time out to chat and are as always so approachable and of course played a blinding gig. Special mention to Ann Marie if you read this please could I have a copy of the photo Mikey took of yourself, my brother and I?
"The big man" Todd
whom had he not heard us talking to the receptionists we may well have missed out! Thanks so much!
Mikey
as always a superbly executed Evo experience and making it all possible
And of course
Mr Steve Vai
. Words cannot convey my gratitude to what you do both on the guitar and personally for you fans. I can safely say even if you were not a guitar legend it would still be an honour to have you as a friend.
THANK YOU