Hi all,
I apologize for drawing the boarders' attention to my humble person, but I wanted to share with you the joy I'm feeling this year: next week I will be in the audience warching Steve's concert in Strasbourg, 20 years almost day to day after seeing him live for the first time. I live in the North-East of France, and I had the opportunity to witness 5 Vai live shows in this area during those 20 years. All of them were different, and all of them were amazing and truly unforgettable experiences. And for this special occasion I wanted to lay out an overview of these twenty years. Please forgive me if you think that's a dumb idea. But if it's ok for you, let's indulge into those memories: 1993-2013 !
1st show: November 20th, 1993 in Mulhouse. The Sex & Religion tour.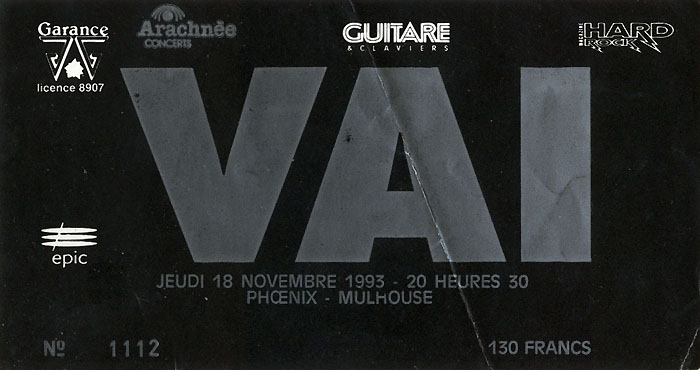 Musicians:
Steve, Devin Townsend, Scott Thunes, don't know the names of the drummer and keyboard player.
Setlist:
An Earth Dweller's Return / Hear & Now
Greasy Kids Stuff
Sex & Religion
The Animal
Touching Tongues
Thunder Kiss '65 (White Zombie) / Dirty Black Hole
Drum Solo / State of Grace
Survive
Still My Bleeding Heart
I Would Love To
In My Dreams With You
Call It Sleep
Deep Down Into The Pain
Pig
For The Love of God
Liberty
The Attitude Song
Sisters
Answers
As you can guess, it was an incredibly impressive thing to actually see Steve perform for the first time. All those songs I knew by heart by listening endlessly to the albums at home were becoming alive, plus there was the stage madness of Devin Townsend on top of that. Talk about an INTENSE show !
It all started to get magical even before the show began: I went to the venue a few hours before showtime, because I wanted to get to the front of the stage. Some people were already there and waiting. We chatted a little. I remember clearly that we were standing outside in front of a large red metallic closed door, and suddenly we could hear the sound of the soundcheck coming through the door ! The band was rehearsing parts of "Answers". And immediatly I senses an immense feeling of undertstanding that Steve was not only a guy I saw on pictures in rock magazines or on record covers: he was real. I know how stupid this must sound, dear reader. Of course Steve is real ! But try to understand the context of my experience: I was about the only one in my college that knew Steve and his music. Somehow I was feeling like I had discovered something great that nobody knew about. I went to the concert (quiet far from where I lived) urged by a gut feeling telling me that "This has to be something of importance. His records are soooo fantastic". But I had NO idea what it was gonna be like ! (You have to keep in mind that there was no Internet at the time.) So here I was standing in the cold in front of that metal door, quite tired because of the 2 hours drive... ...and then the sound of "Answers" came out of nowhere. It felt like Christmas: I made the journey to Mulhouse, and yes, Steve too. The sounds confirmed it. The show was going to happen, and in a few hours I would be in front of him and all his music was gonna come alive. That was the message embeded in those very first notes I heard from "Answers". Which was one of my favorite tracks, by the way.
And then we entered, and then the show began, and it was jawdropping from start to finish. I won't go into all the details and description of the show. That would make my topic boring, and this chapter is already too long. But I'll just report a very special personnal moment: halfway through the show, in a silence between two songs, I slowly shouted: "Salamanders in the sun !". Steve stopped what he was doing, lift his head up and said with an astonished smile: "Salamanders in the sun ?". I suppose he didn't expect anyone here to ask for this song.
2nd show: April 1st, 2000 in Strasbourg. The Ultra Zone tour.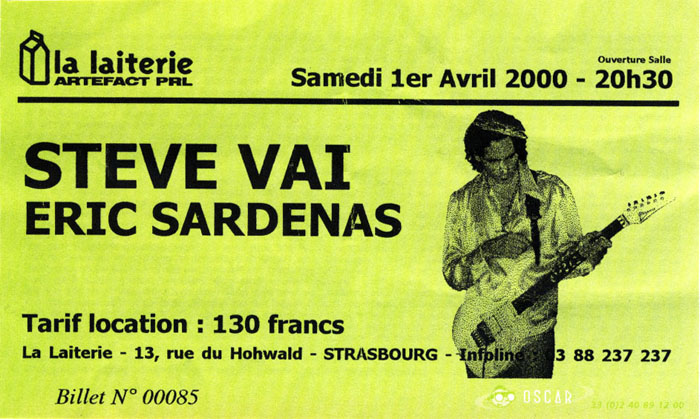 Musicians:
Steve, Mike Keneally, Phil Bynoe, Mike Mangini, Dave Weiner.
Setlist:
Here I am
The Ultra Zone
Erotic Nightmares
Tender Surrender
Salamanders in the sun
Drum Solo
Bad Horsie
Jiboom
Windows To The Soul
Little Alligator
Blood & Tears
Angel Food
Mike Keneally Solo
Fever Dream
Voodoo Acid
Being with you (in Paris)
I Would Love To
For The Love Of God
Liberty
Attitude Song
The second show I attented, and a completely different mood and energy than the first. Of course it was as brilliant and pleasant and magic. Just a bit different, more relaxed maybe. It was difficult for me this show because Mike Keneally was in the band, and since he is one of my "hero" too I just kept moving my head from him to Steve to him again every second or so, because I was in the fist row and I didn't want to miss a thing.
A lot of suprises in this show:
The Heart-Shaped Guitar for "Fever Dreams", of course. But also Steve being an incredibly good entertainer during the amazing "Voodoo Acid". And "Erotic Nightmares" ! And then "Angel Food", with a bit of the "Uncle Meat" melody at the beginning... (Steve and Mike were in Frank's band, remember ?).
Personal moment: for a reason I was allowed to see the soundcheck for this show. VERY interesting to see Steve working with the band. During that tour, Steve was recording exclusive songs for the "Alive in an Ultra World" project. And I got the luck to witness both the rehearsing and the recording of the song "Being with you (in Paris)" that afternoon. Steve started by explaining the concept, and asked if someone from the soundcheck audience could come up on stage to recite, in french, a text he had written, during the song. One guy got the job, and the band started to record the track. I recall that the computer they were using to record the soundcheck was not working very well. They had to redo the song many times ! I also recall that the accordeon player on that song was a member of Eric Sardinas' band. Another french guy then tried his hand at prononcing the french speech, but for the evening show's actual performance Steve used the first guy. On the live album, it is one of the soundcheck version that is published.
After the show I had the chance to meet and chat with Mike Keneally for the first time. I had brought with me my entire CD collection which he happily signed.
Oh and by the way: Steve DID play "Salamanders in the sun", that time !
3rd show: October 28th, 2005 in Strasbourg. The Real Illusions: Reflection tour.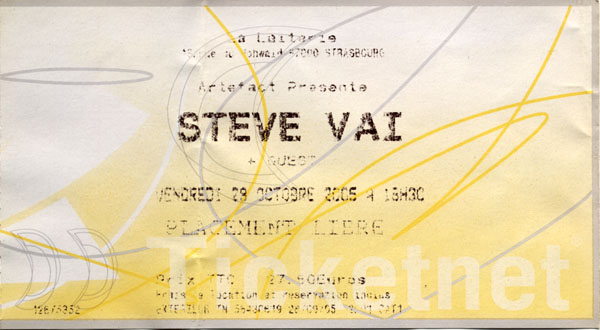 Musicians:
Steve, Billy Sheehan, Jeremy Coulson, Tony McCalpine, Dave Weiner.
Setlist:
Shy boy
The Audience Is Listening
Building the Church
The Crying Machine
K'm-Pee-Du-Wee
The Reaper
Whispering a Prayer
Answers
Freak Show Excess
Keyboard Solo
Melissa's garden / Rescue me or bury me / A snippet of The boy/girl song
Bass Solo
The Boy/Girl Song
Drum Solo
Midway Creatures
I'm Becoming
Lotus Feet
I'm The Hell Outta Here
Liberty
My Guitar Wants to Kill Your Mama
For the Love of God
Ok now I have to admit my memory strongly remember that this show began with "Shy boy". But everywhere on the net it says that the 2005 shows started with "Glorious". But I never heard "Glorious" live and I strongly beleive it was "Shy boy" that started the show. To tell you the truth, I don't remember.
But what I do remember is that this show was really great. It was in the same venue than show#3.
4th show: June 29th, 2007 in Luxemburg. The Sound Theories tour.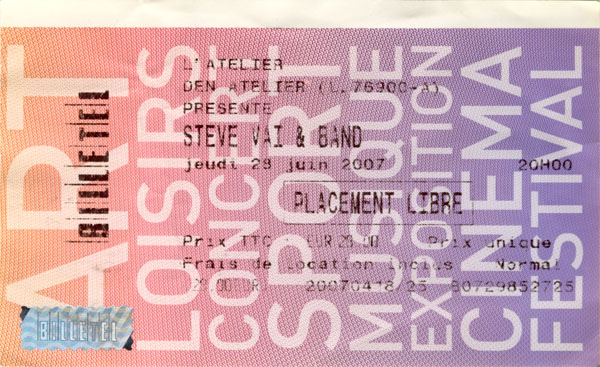 Musicians:
Steve, Bryan Beller, Jeremy Coulson, Ann-Marie Calhoun, Alex de Pue, Dave Weiner.
Setlist: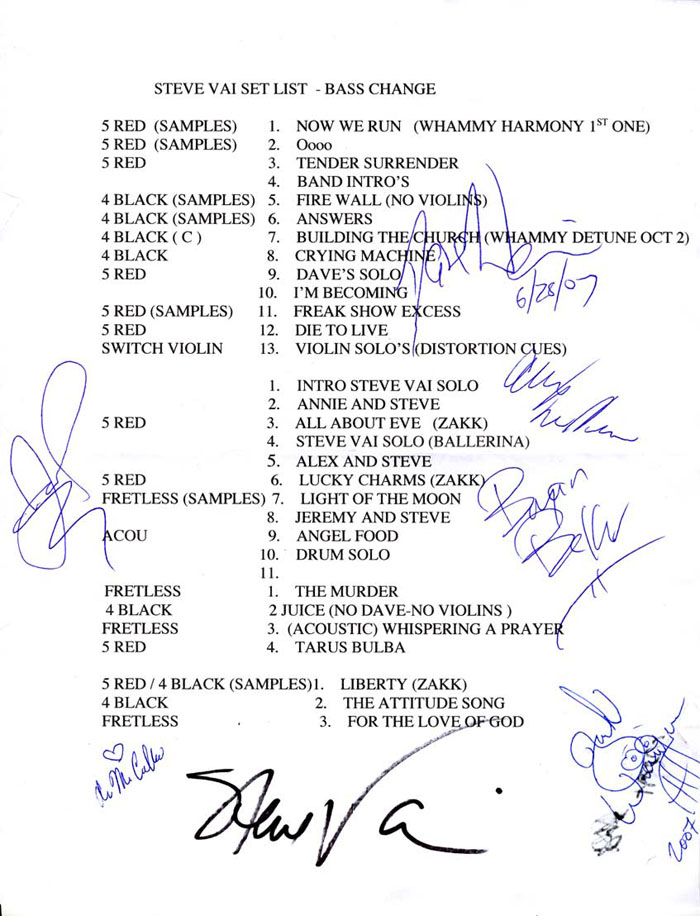 Now is that a cool setlist or what ?
This is the very first show of the tour ! That's right, the very first show with the two violins
By far, this was the BEST Steve Vai show I had ever saw so far. It had EVERYTHING in it: the difference of colours due to the violins, a VERY small stage, hence a very small space between the band and the audience, and a killer tracklist, with all the songs I loved but I never thought to hear live one day: Now we run, Oooo, All about Eve.... This was THE show made for me
Personnal moment: they played Lucky Charms. Really. It was soon dropped from the list after a few shows.
5th show: November 17th, 2012 in Luxemburg. The Story of Light tour.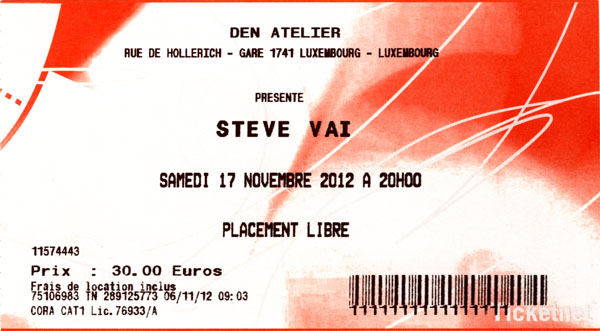 Musicians:
Steve, Phil Bynoe, Jeremy Coulson, Deborah Henson-Conant, Dave Weiner.
Setlist:
Racing the World
Velorum
Building the Church
Tender Surrender
Gravity Storm
Guitar Solo
Weeping China Doll
Answers
The Moon and I
The Animal
Whispering a Prayer
The Audience Is Listening
Harp Solo
Rescue Me or Bury Me
Sisters
Treasure Island
Salamanders in the Sun
Pusa Road
Drum Solo
The Ultra Zone
Frank
Build Me a Song
For the Love of God
Taurus Bulba
Same venue, same small stage, but different band. I knew Ann-Marie and Alex weren't playing with the band, but I didn't know about Deborah and the harp ! When the band came on stage, I was very surprised. This show was for me as good as the previous one. I was hoping to hear Velorum and Weeping China Doll, and there were there. And Gravity Storm was unforgetable !
Personal moment: Frank ! For a long time I thought this one wouldnever be played live, because of the extreme difficulty and fragility of the "all-bended-harmonics" solo in the middle. And then Steve played it flawlessly that night. I was in tears.
So here we are folks:
Next Tuesday in Strasburg, I will witness my 6th show, some 20 years after the first one. And guess what ? For the first time ever,
I will bring with me my 15 year old son !
He just got hooked into Steve's music a few months ago, while I was watching the "Where the wild things are" Bluray (after what he borrowed all my cds, etc... lol), and it will be HIS FIRST ROCK CONCERT EVER !!!!!!!!!
I'm so glad he'll be able to witness this incredible artist performing and entertaining us all. For twenty years I saw Steve Vai's concerts alone. Now I'm entering a new phase of live music enjoyement. This time with my son. (and his sister in a few years, when she'll be of age - She likes Steve's music too
).
Thanks for reading. Hope this was not too boring for you.