I was lucky enough to take part in The Evo Experience... my wife and I flew into Buffalo(from Philly)... after lunch, here's how it went down:
3:30 - We all met at the venue and met one of Steve's crew. We signed in, got our Evo passes and went to a green room and waited for Steve.
4:15 - Steve showed up and he had a question and answer for about an hour. It was great to hear him talk about different experiences, dealing with the record industry, things he learned from Frank, different sessions he's taken part in, what he has planned next, then we all took turns getting stuff signed from him and got to take a few pics. I'll share some:
Before he came out, they brought out Evo(his number 1)... everyone took pics. I took it a step further and put my Jem next to it..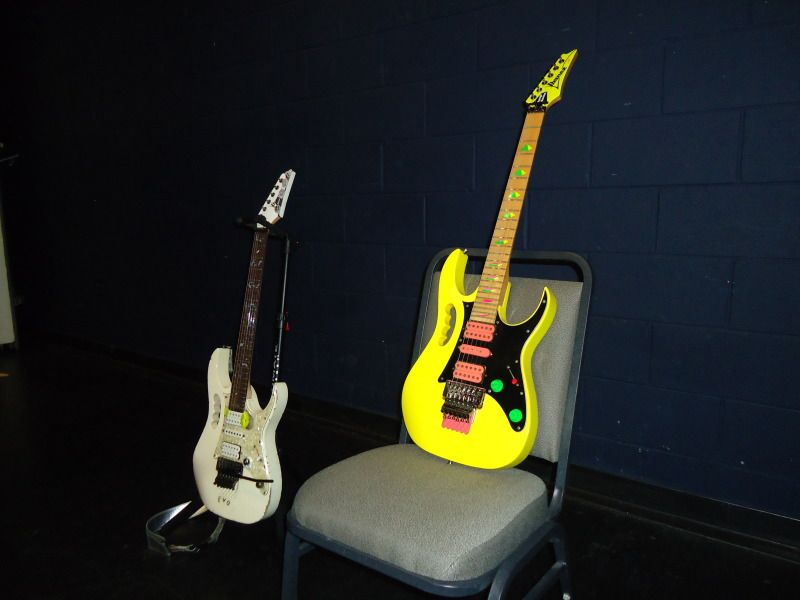 Here's a pic of me and Steve: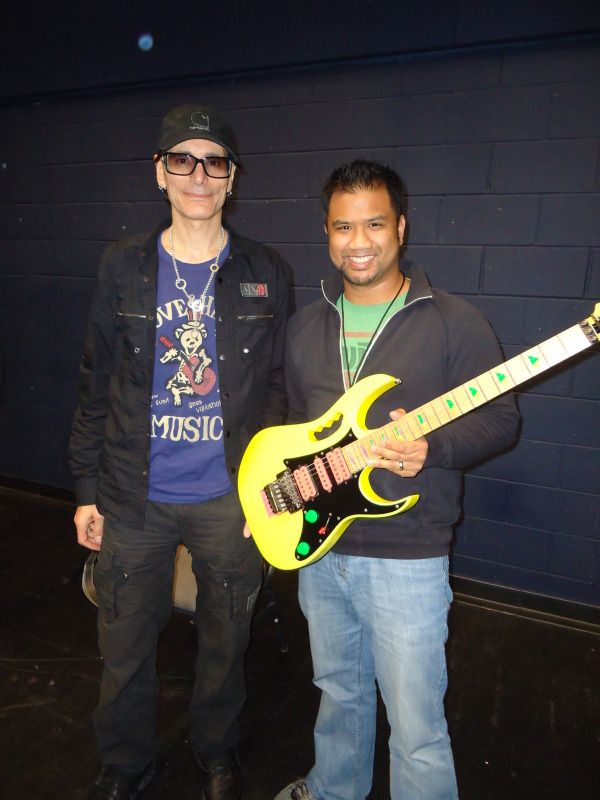 One of Evo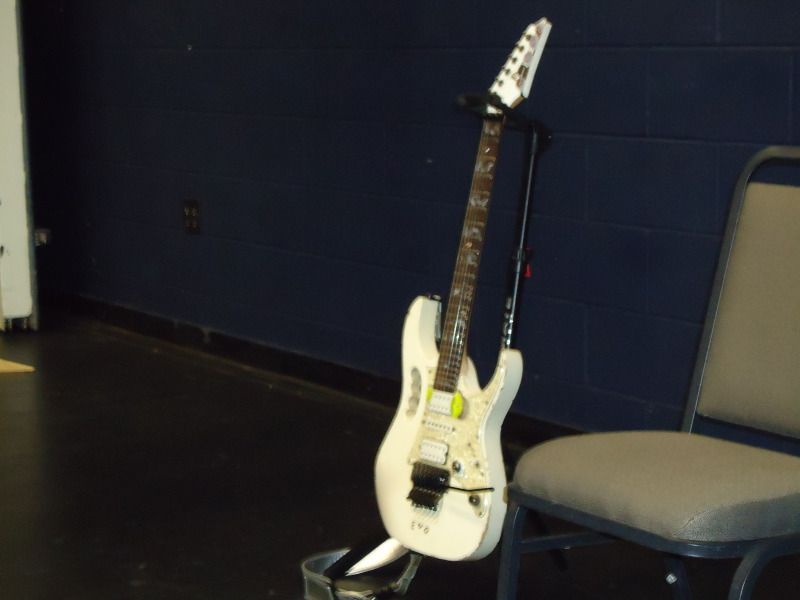 One of Evo and me... closest I'll ever get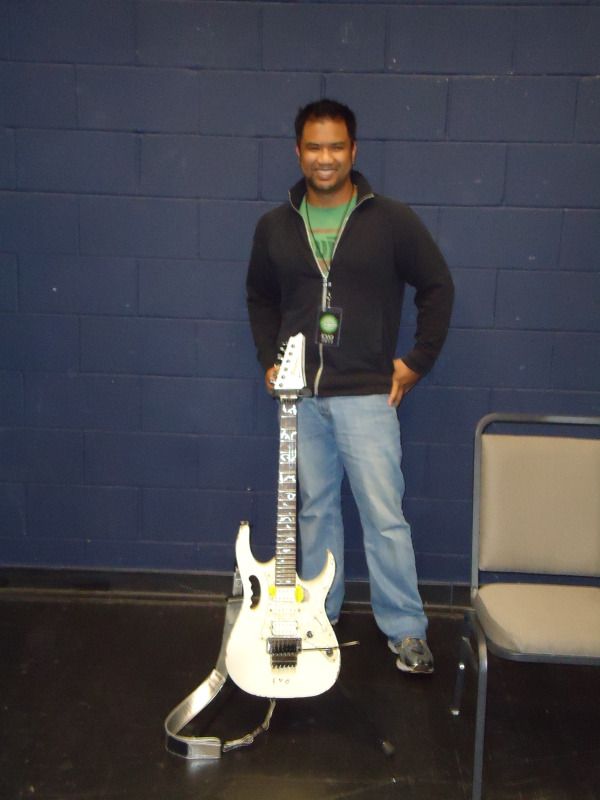 Steve's sig on my Jem777DY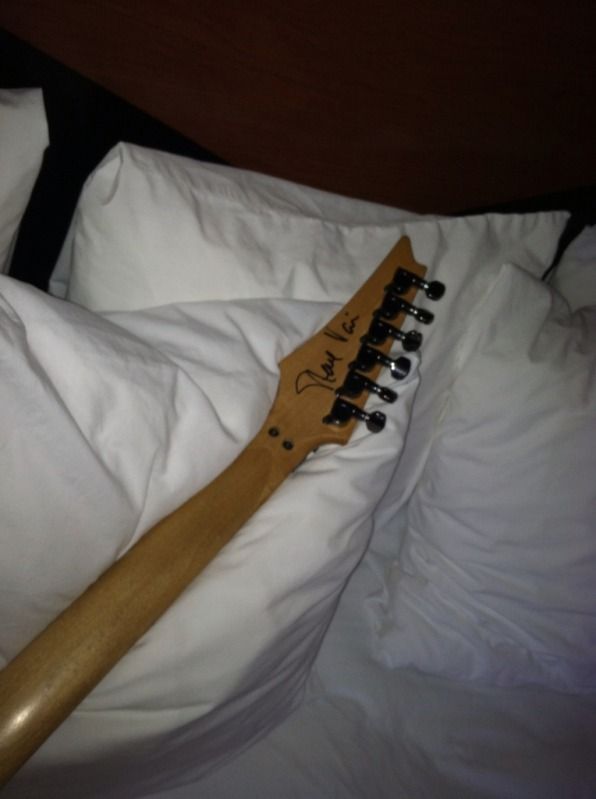 *** The one thing that bummed me out was there was a guy who occupied Steve when he was walking around and signing people's stuff. Steve was kind enough to make a video for the guy's wife because she missed the show, but even when he was done, this guy kept on talking to him. Steve was gracious enough to keep talking, but it took away from the other people that were there to speak to Steve. On top of that, we were told that we should only have 2 or 3 things for Steve to sign... everyone did that, except this guy... he had at least 8 things for him to sign. A word to those going to Evo... be considerate of other people. We are all there to experience this great time with Steve... it's not just about you. Just sayin....
Around 5:15, we headed to soundcheck and got to sit in the first few rows. It was awesome to see the whole band there... Steve was having some major issues with his guitars... every so often, he would get a radio signal coming through his amp. After a while, he made a joke, "This is the closest my music has come to being on the radio..."... it was great!!! Then he was having a problem with his sustainers, when he would turn them on, they would just got out... weird... Soundcheck included Gravity Storm, Velorum, Rescue Me or Bury Me, Salandars, and Whispering a Prayer.
That went to almost 6:30.
My wife and I went to get dinner at that point so we missed the opening act. We sat down just a few min before Steve came on... 2nd row center!!!
As far as the concert goes, amazing... simply amazing. It was the first time that I ever saw him live and I was just blown away. Not even as a guitarist, but as an overall entertainer... he(and the band) did a fantastic job. When they played Gravity Storm, his guitar cut out again, but he covered and totally went on like nothing happened. Fantastic show... here are some pics: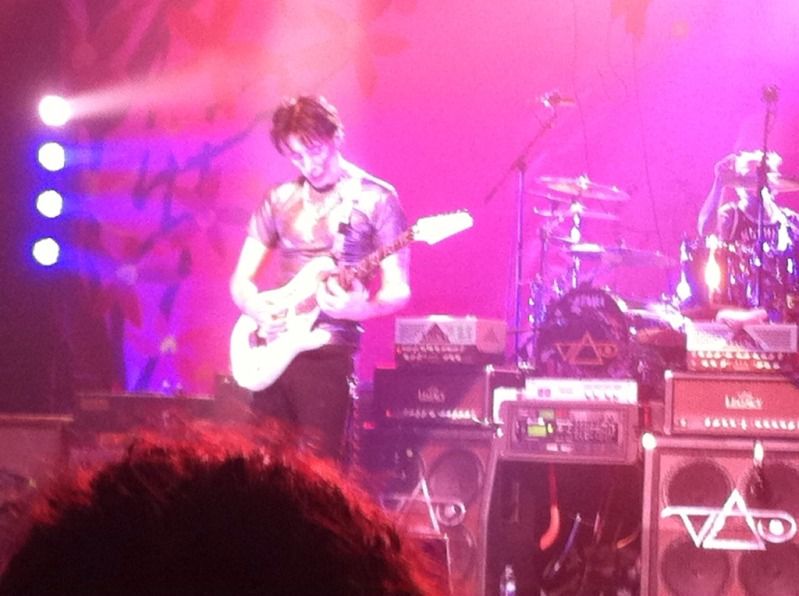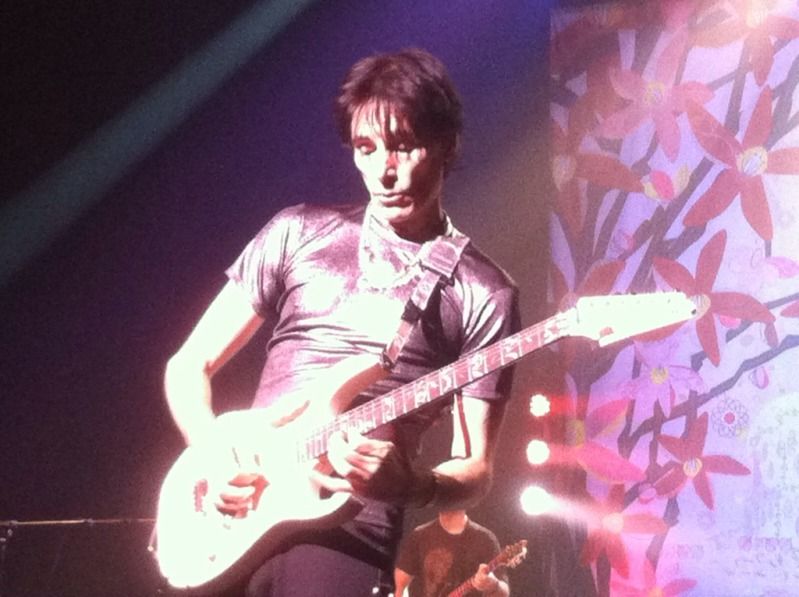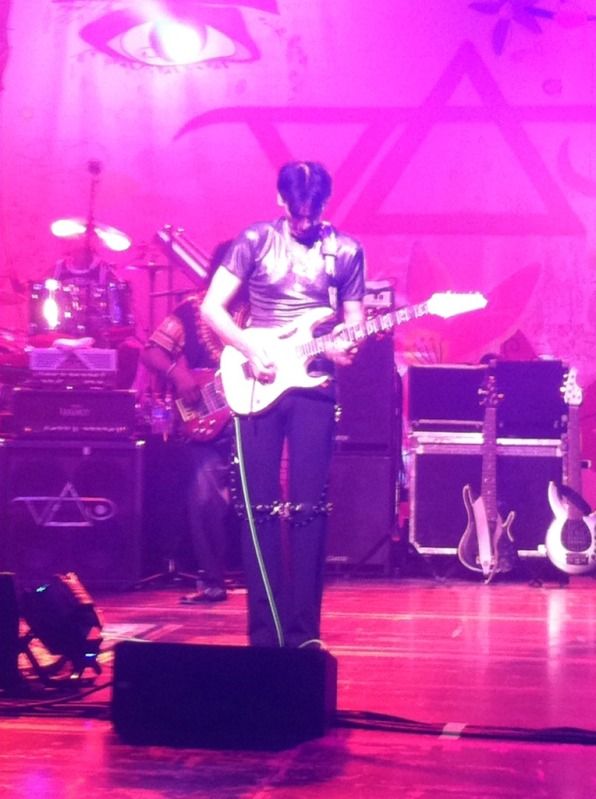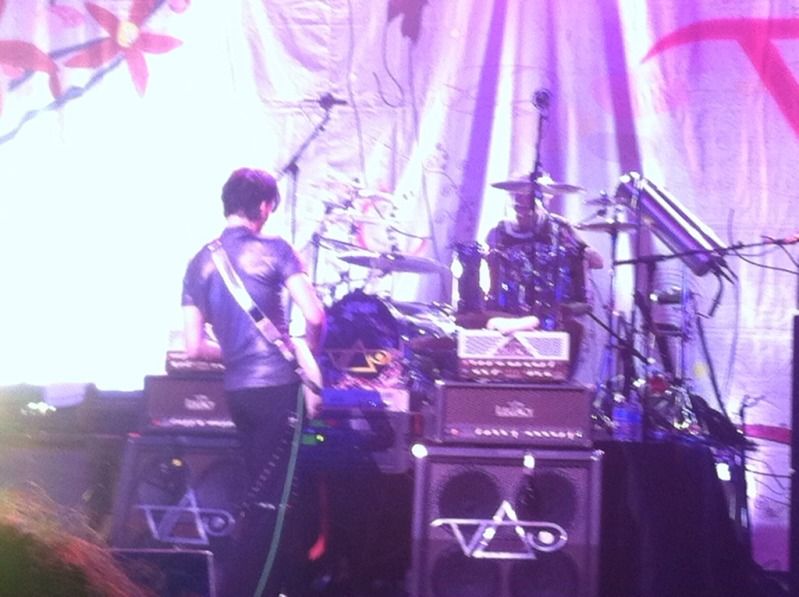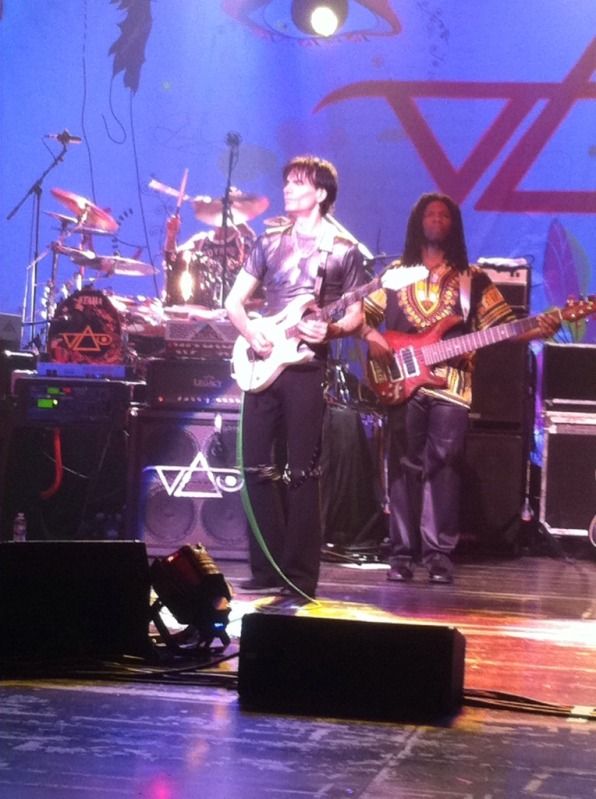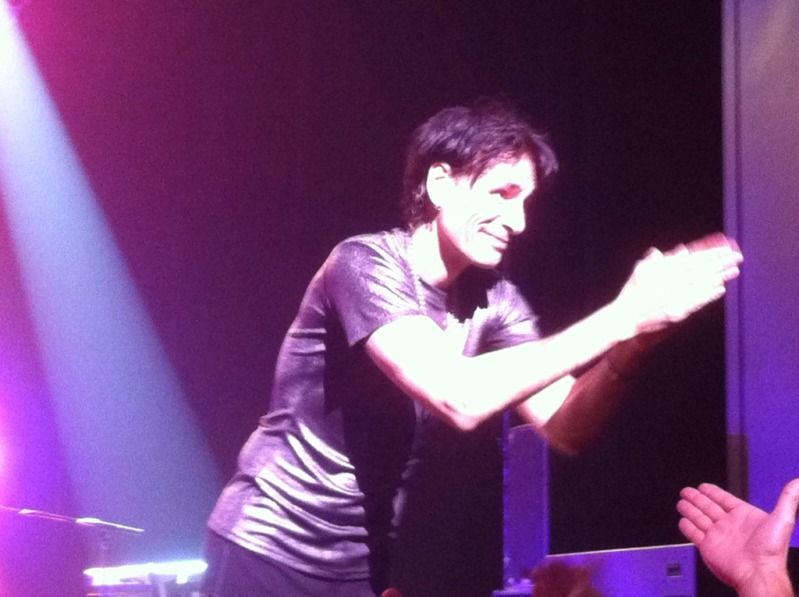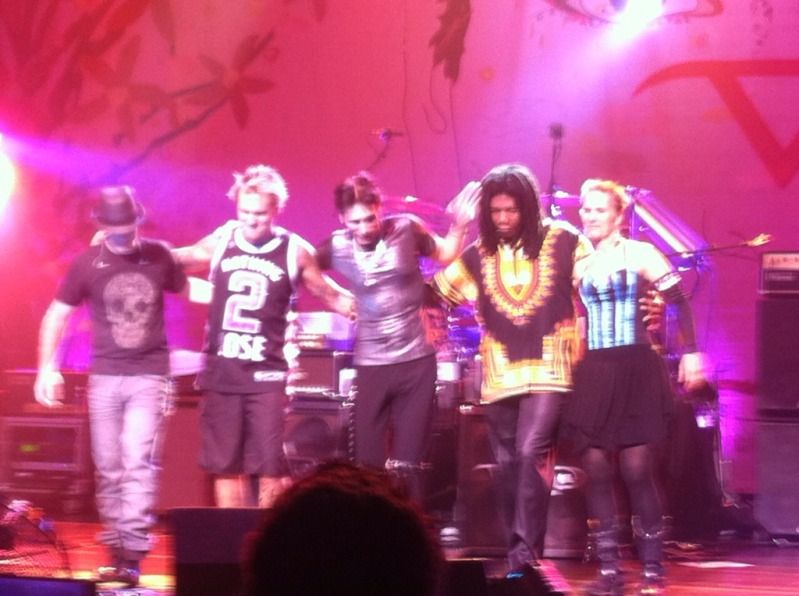 My wife took these pics so I could just focus on watching the show. The security at the venue were stopping people from taking pics... even though Vai's camp told us we could.... just no flashes. My wife had to sneakily take these... she did great!!!
The show was amazing and I don't know what I could have asked for... amazing show!!!