Member

Posts: 585
Joined: Tue Jul 10, 2007 10:08 am
Location: Singapore
benny, you mean you bought tickets, but forgot to go for it?
---
That would even make it worse. But no. I completly forgot 'bout it.
---
Guys, please, reviews only here.

j
---
It was certainly a great experience, getting to see him performing just meters away, learning his self training secrets, talking to him personally, getting your guitar signed, even jamming with him (for some lucky few then)!!! Before the event I wasn't sure whether I should get my guitar signed, since I didn't know how it would look. In the end I decided to get the headstock signed, and I'm still impressed with the beauty of it! This experience gave me all the motivation I need for many more years. It was worth every penny, and I wouldn't think twice should there be another one in the future!
---
In order to get enough attention for this AGS in Tiel a brotherinlaw of mine made this poster for me. I just sat right beside him and I told him how I wanted everything and he did all the technical stuff. Thanks Maarten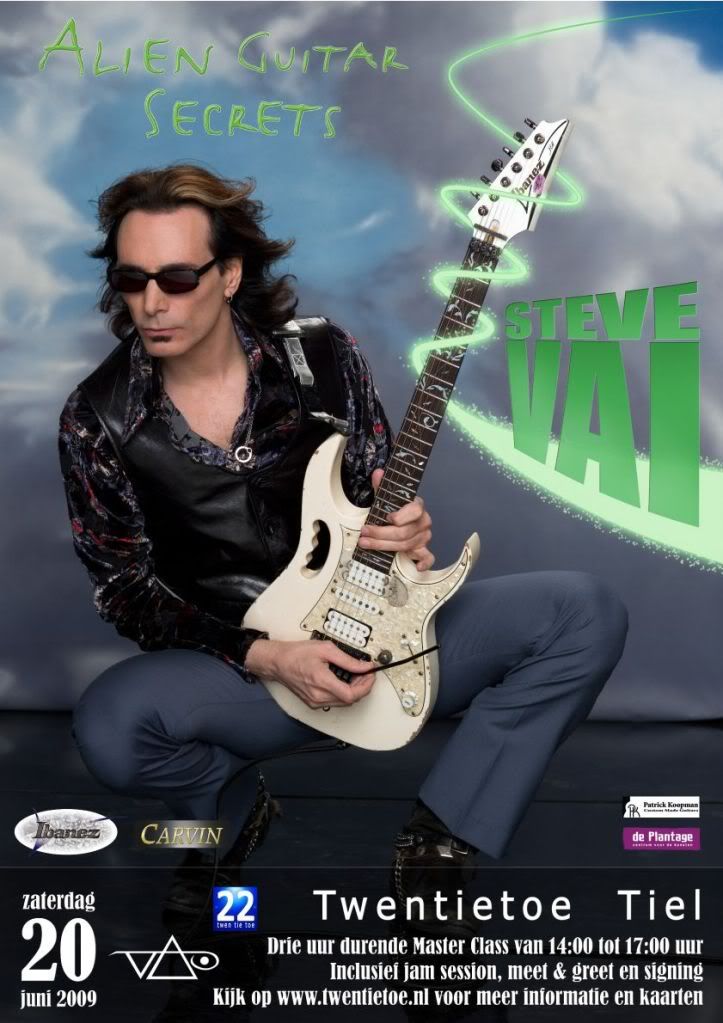 ---
From left to right; Patrick Koopman, Jeroen and Will Schut.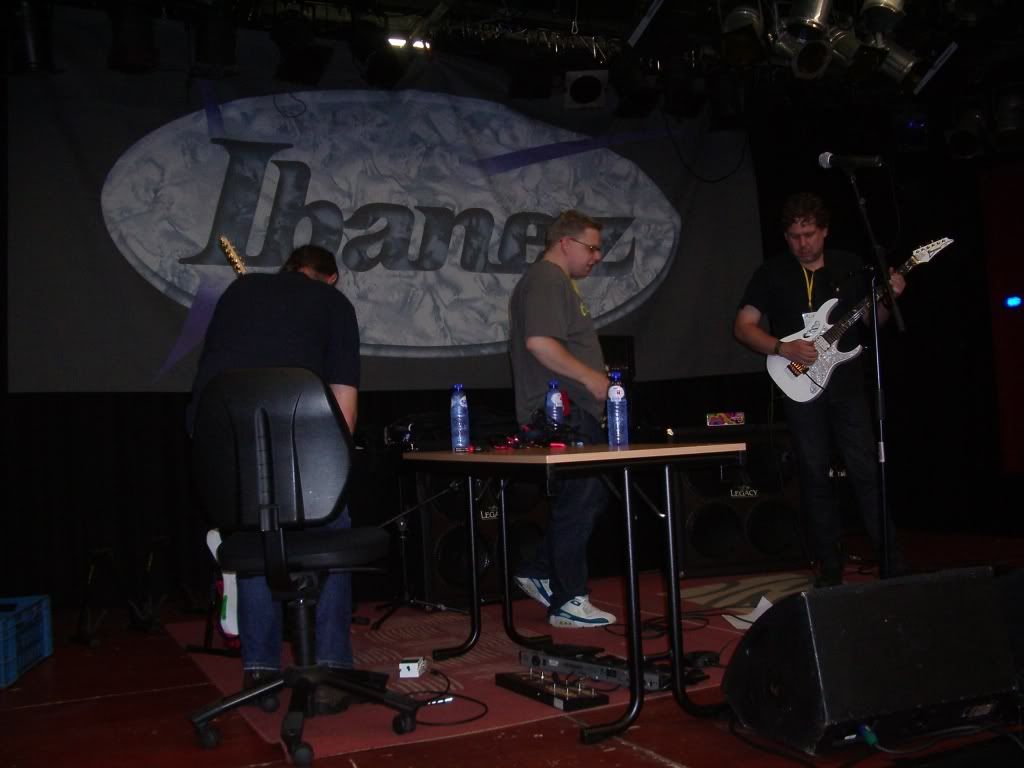 And on the right, John Pusztai.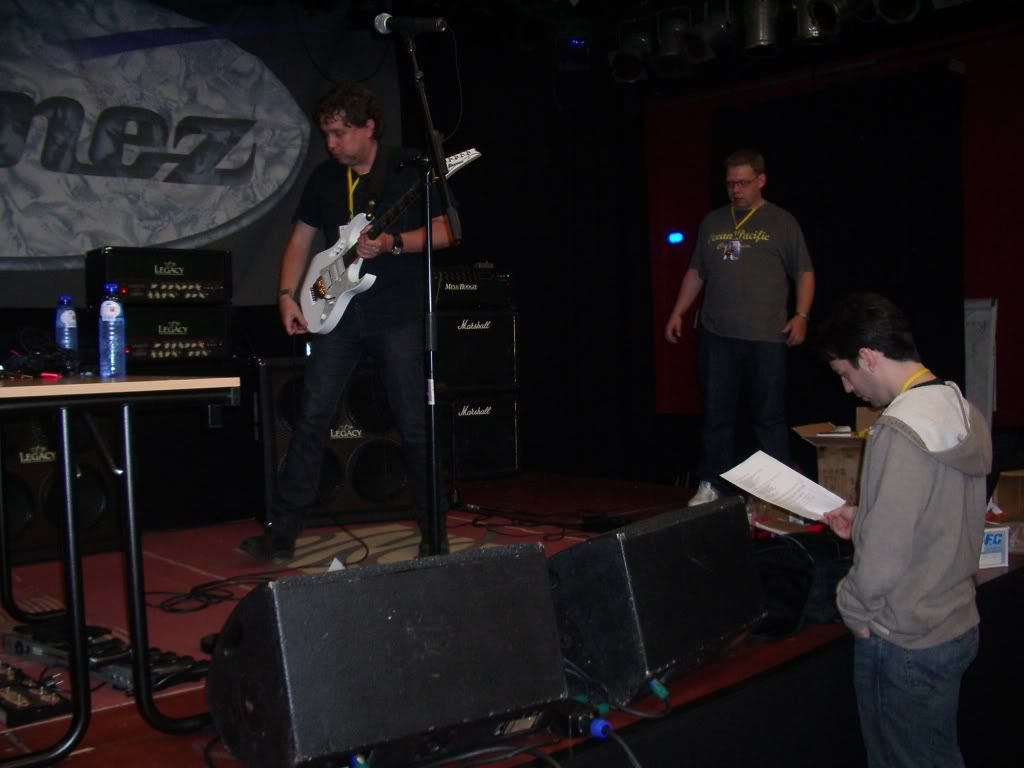 The guys bussy getting everything ready.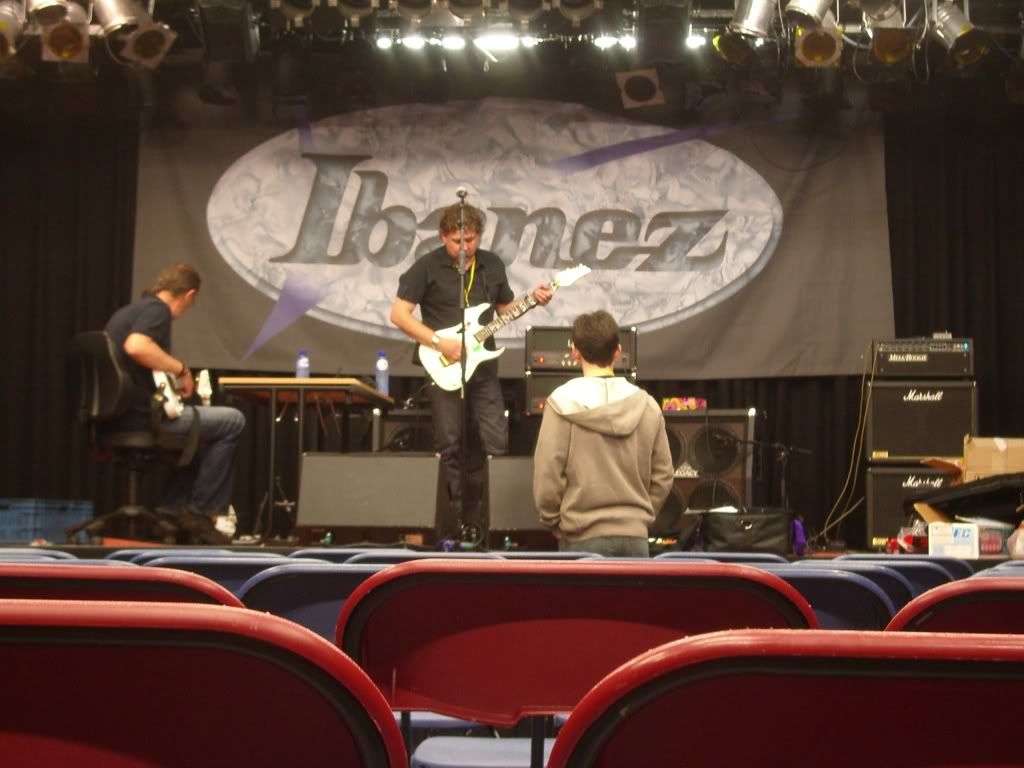 Will Schut sound checking. btw, fantastic guitarist.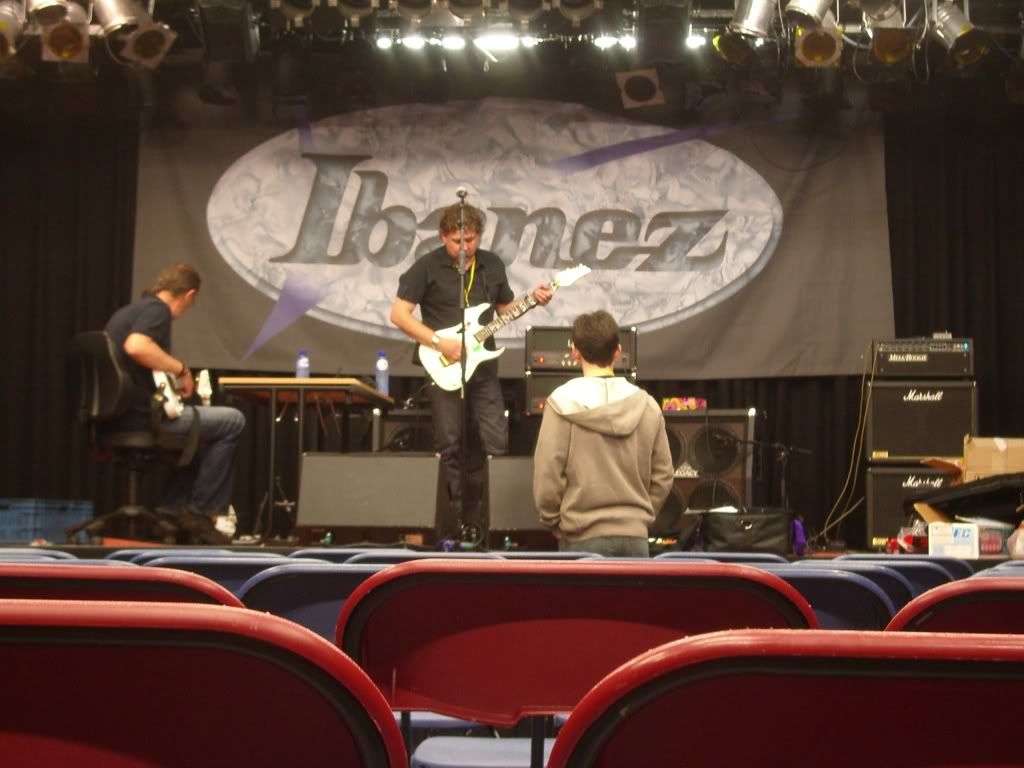 The venue (Twentietoe) where the AGS took place. Patrick Koopman (guitar tech for the Aching Hunger shows in 2004/2005) and a pale of his, Will Schut were the guitar techs for the AGS in Holland (both shows). Together with Jeroen they set Steve's gear up. When Greg (Steve's tech) arrieved, he could make the last check before Steve could do his sound check.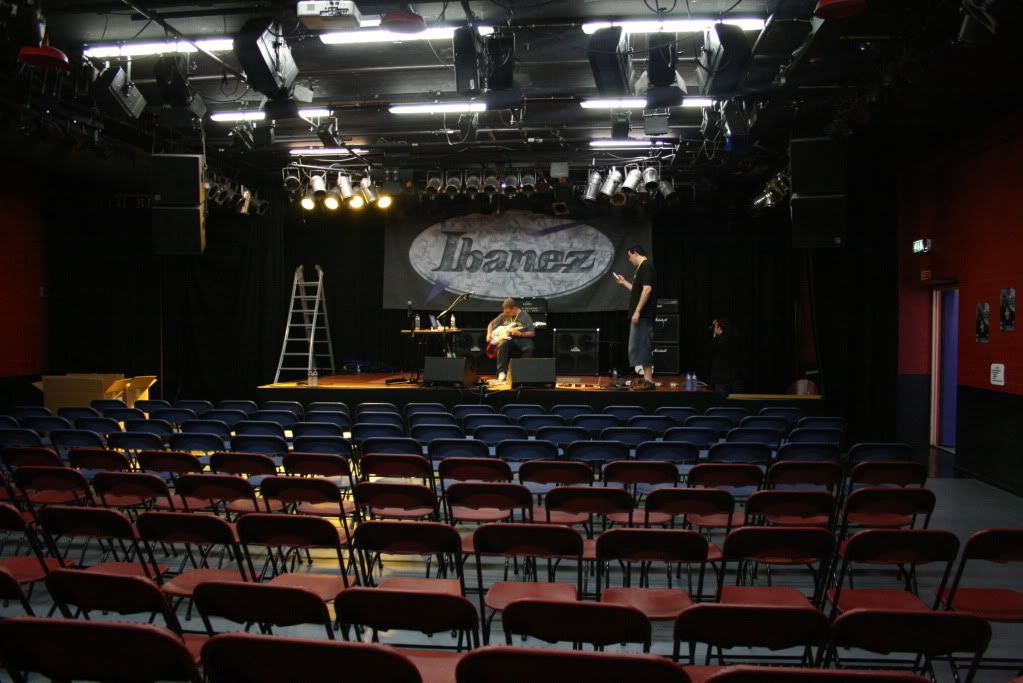 Stijn, Twentietoe's sound engineer.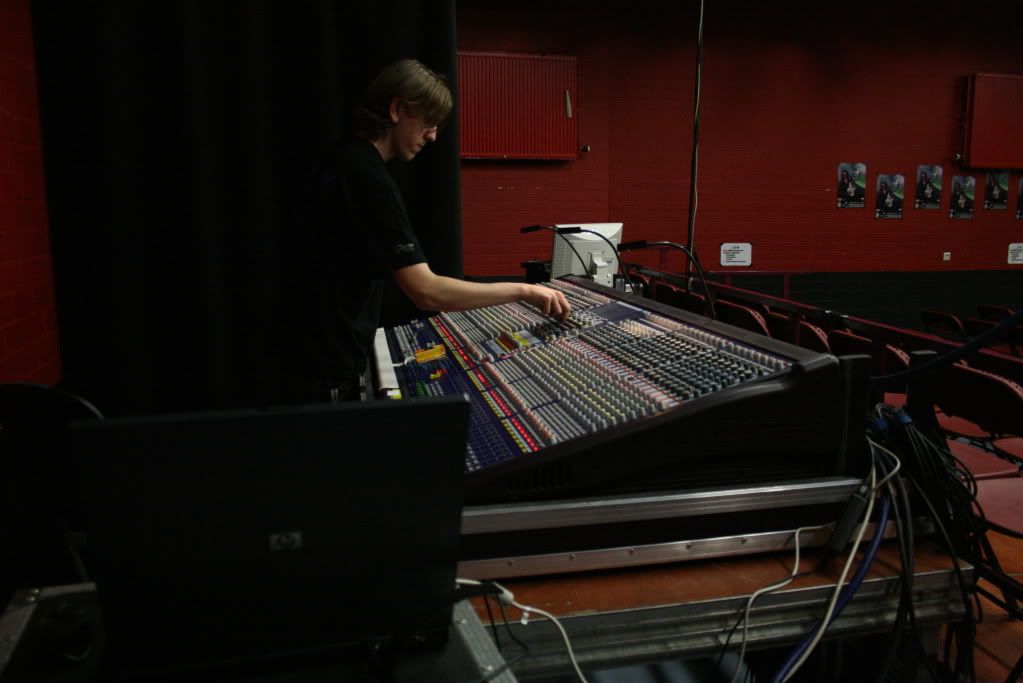 Jeroen checking FloIII.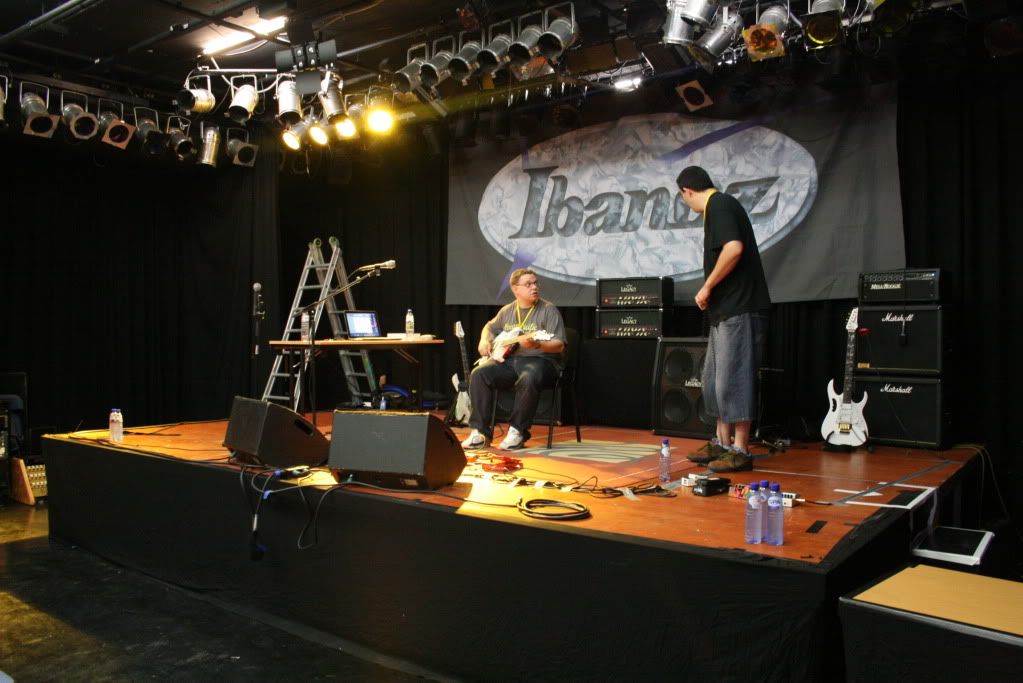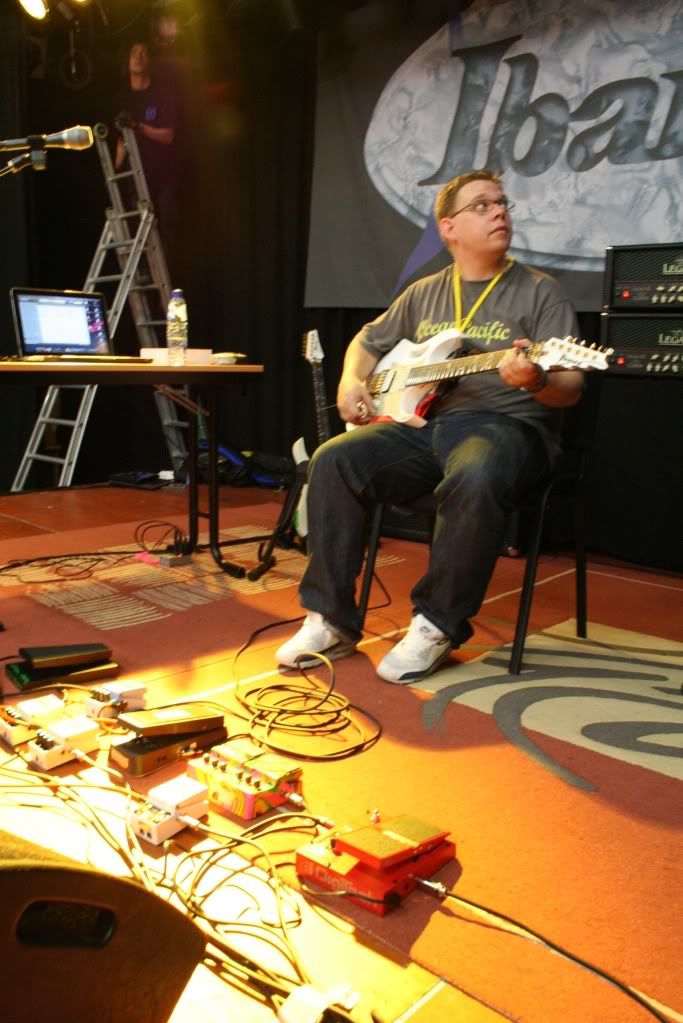 The pedals
Carvin LegacyII. And Jeroen's replica of Flo in the front. Just wanted to add. The neck on this guitar is an orginale spare neck from the originale Flo.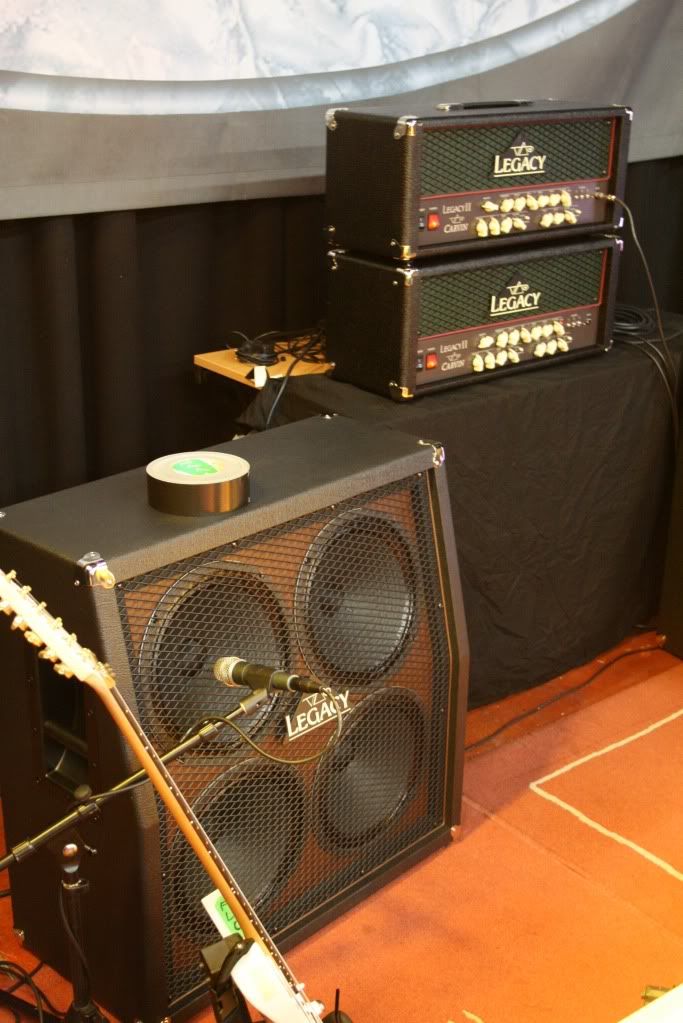 The spare (stoke Jem7VWH) and a Mesa set from Patrick Koopman. Ibanez profided the spare. Patrick or J, please tell the folks something about this beautiful Jem?! lol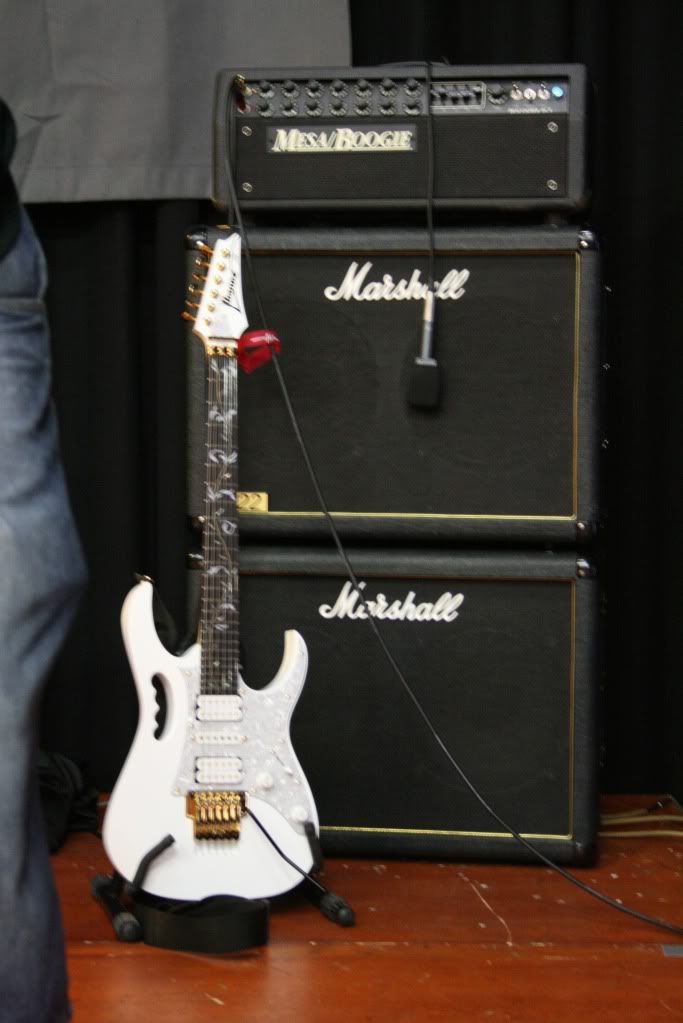 They let everybody on stage! Hope FloIII is still in tune lol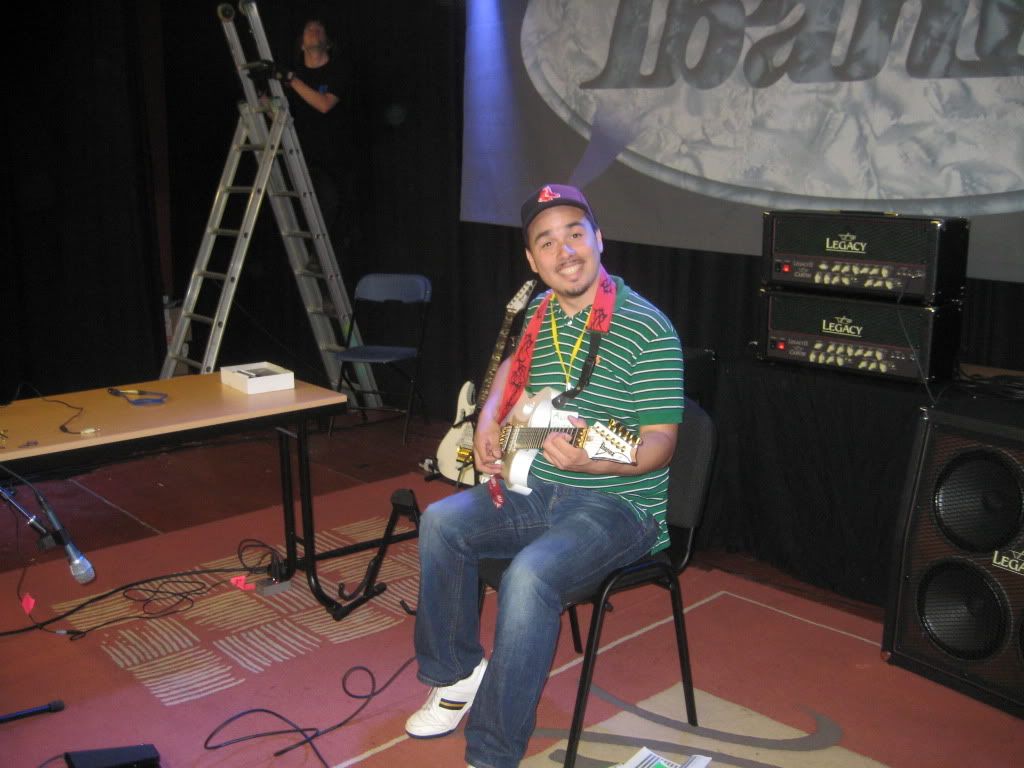 Last edited by
EyE
on Sun Jul 19, 2009 12:19 pm, edited 5 times in total.
---
Great Pictures there!
how was it to play FLO?
---
The frets are slightly scalloped. Other then that it felt great.
Here are some more pics:
The room I reserved for Steve for him to relax.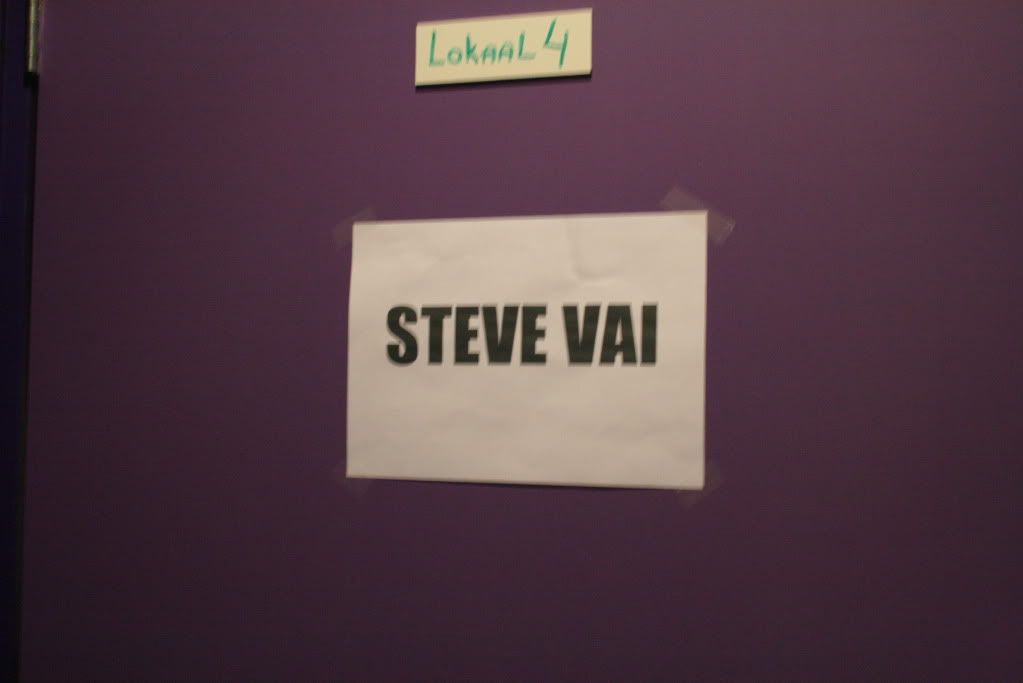 A quick peak inside then. ahh yeah, I went by my house to pick up my couch so Steve could sit comfortable.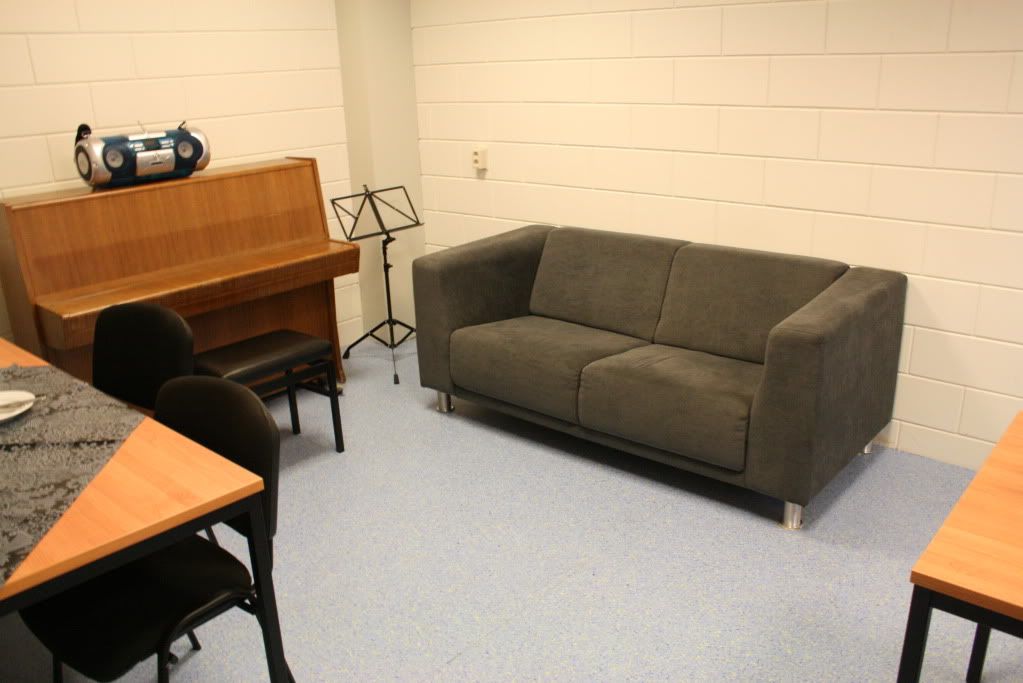 The Ibanez booth, where they sold Ibanez items such as hoddie's, caps, SV picks, Jemini pedals and the Naked Tracks Box.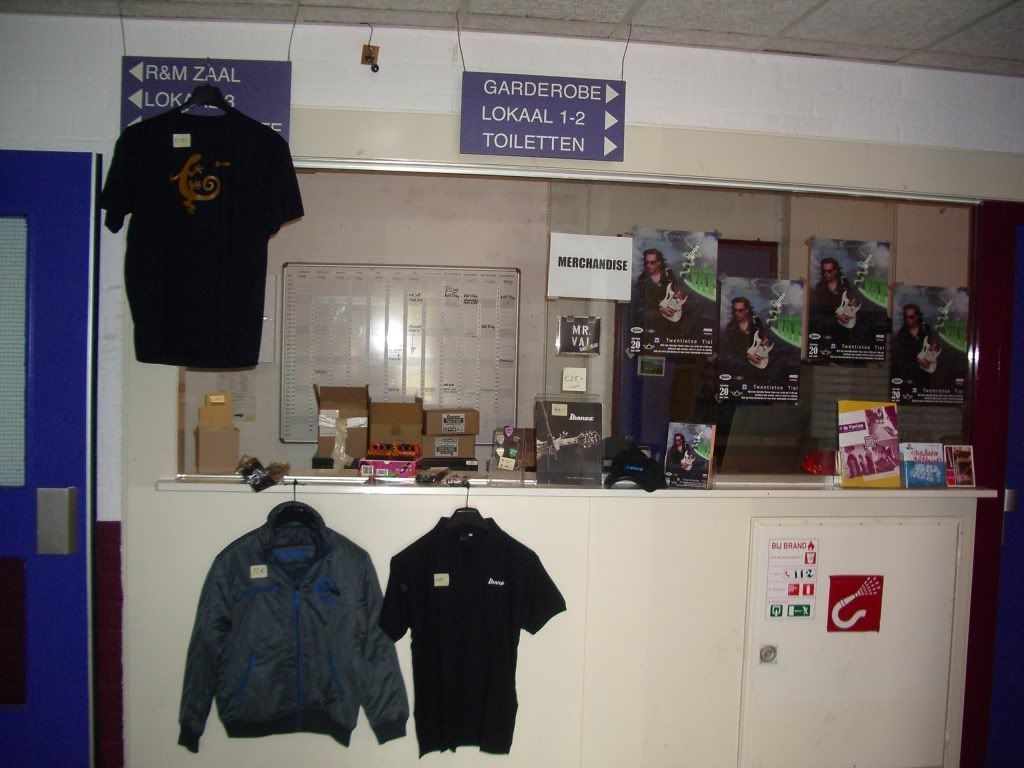 Me and the venues crew going through there tasks for that day.
After that every one had lunch.
Hey John!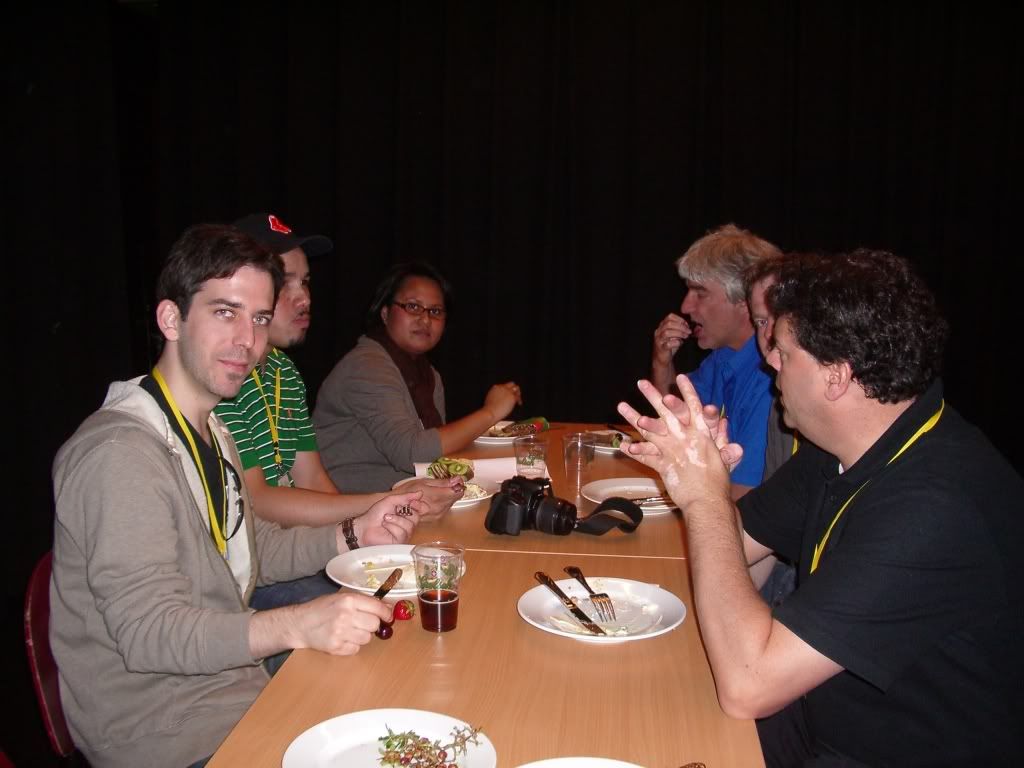 The crowd waiting outside for the doors to open.
---
Member

Posts: 640
Joined: Tue May 13, 2003 5:47 pm
Location: TURKEY, Istanbul
Contact:
Nice pictures John. Thanks for the sharing. I also seen them on facebook too
---
Any of you guys out there jammed at this particulair event?
Maybe you like to tell how this experience was for you?
---
There were 5 lucky ones who got to Jam with Steve at this AGS. All of them aren't members here but I got to talk with a couple of them after the MC. One of them even emailed my last week because he just wanted to let me know again that he really enjoyed that day and thought it was the highlight of 2009 for him. Not just the Jam but the whole MC. He thought it was the coolest experience he had ever had.
---