or any other sort of Vai swag
---
If I had the means, I would.
As it is, though, I do have a growing collection of disks and the goodies that came in the Platinum package for The Story Of Light. That was a big purchase for me! Ended up being my birthday gift...
*and such a nice gift it was!*
Still is, as I have the disk in heavy rotation, and I still have the post cards to plant. Wanted to wait for Spring, coz Georgia weather is silly, sometimes!
---
Newcomer
Posts: 2
Joined: Tue Jan 22, 2013 3:16 am
Hi Im a big Vai collector
---
I collect Steve Vai guitar picks

I also collect everyone elses guitar picks...


Vai: I have, several.
>Ultra Zone Pick (From G3 2001)
>G3 2003 Pick (says G3 2003)
>Pink Ibanez SV pick (USED during the G3 2003 Show)
>I think i also might have one or two EVO Exp type picks

I also have at least 3 Dave Weiner picks,
Including a really rare/early green pick from 2001 or so

I have great guitar pick luck...
For example- At G3 2003, I got a pick from all 3- Vai/Satch/Yngwie
At G3 2007 I got a pick from Gilbert, Satch, I didn't get a Petrucci pick but DID GET A PORTNOY DRUMSTICK which i worship

I have tons and tons of picks i've got at shows
All the members of Metallica

My fav is my rarest pick which most don't know i have
I have a Les Paul pick
not the one he used but the picks he gave to guests and the celebrities that would jam with him- so if paul mccartney was there and came up on stage and played they'd hand him one of those picks

My record is 8 picks at Cheap Trick

Almost every show I go to I get a pick
---
steve threw a pick to me (which was amazing because he didn't know how much I loved him and his music, and how he had no idea who I was) but he threw it too hard and fell two seats beside me which we're empty(as he was lowering evo into the audience to play with his whammy bar, which is a bad idea because I'd take his trem arm and his cable with me if I got the chance), and probably 15 people jumped on the empty seats looking for it, but nobody found it. It still bothers me that Steve vai gave me something and recognized me for a second (which is untrue, because he stared at me the whole concert because I had flourescent green tape on my chest lol) and gave me something, but I didn't get it. He even motioned to me, sort of giving me a few seconds to prepare. But no, I just had to have bad coordination
. Hopefully next show in 2014 the evo experience prices will be lower, and I'll actually get to hold evo and talk to Steve.
---
you have to practice

i seriously throw picks against the wall and up in the air and practice catching them

you have to because that quick reflex is the difference between a pick and nothing

I've dove across rows of seats for picks/drumsticks etc

I literally once ran 15 feet and dove over 3 rows for a drumstick I GOT IT (luckily it was an alice cooper stick autographed by the band)

My friend got the shit beat/kicked out of him for a Dave Grohl pick (he said it was worth it)
the funny part after he gets beat up for that pick- 10 seconds later i walked up to the second stage they had- asked for a pick and got handed one.

Very rarely I don't dive/fight for one...its worth it

I have a great pick success rate- At Namm i got a pick from Petrucci (finally- they were handing them out at the EB booth during his signing) I also got Steve Stevens (used) and Shinedown

My first pick was at Powerman 5000 (opening for metallica) July 16, 2001 since then its half the reason i go to concerts...
i love picks- its like the TOOL guitarists use to play and they mean a lot to me
---
Member

Posts: 104
Joined: Tue Sep 18, 2012 4:37 pm
Here is one Steve threw at me way back in the day. Was at a small club in Detroit. Show was amazing!! Devin's vocals and guitar skills were spot on that night! Steve taught him well...
I also have the thin cardboard CD jacket off his Passion & Warfare album. For those that have no idea what this is, it's what they packaged CD's in when they first came out. Kind of like record art work back in the day. It still has the original plastic too. I'll dig it out tonight and snap a photo.
---
I own about 160 Vai picks...along many other Vai collectables
And rareties...amongst them is a legacy half stack he used on
the Ultra zone tour
---
Member

Posts: 104
Joined: Tue Sep 18, 2012 4:37 pm
Now getting one of Steve;s half stacks would be way cool.
Here is the CD sleeve I mentioned earlier. Wish I would have left the CD in it untouched and just bought two so I could jam one and save one.. Oh well.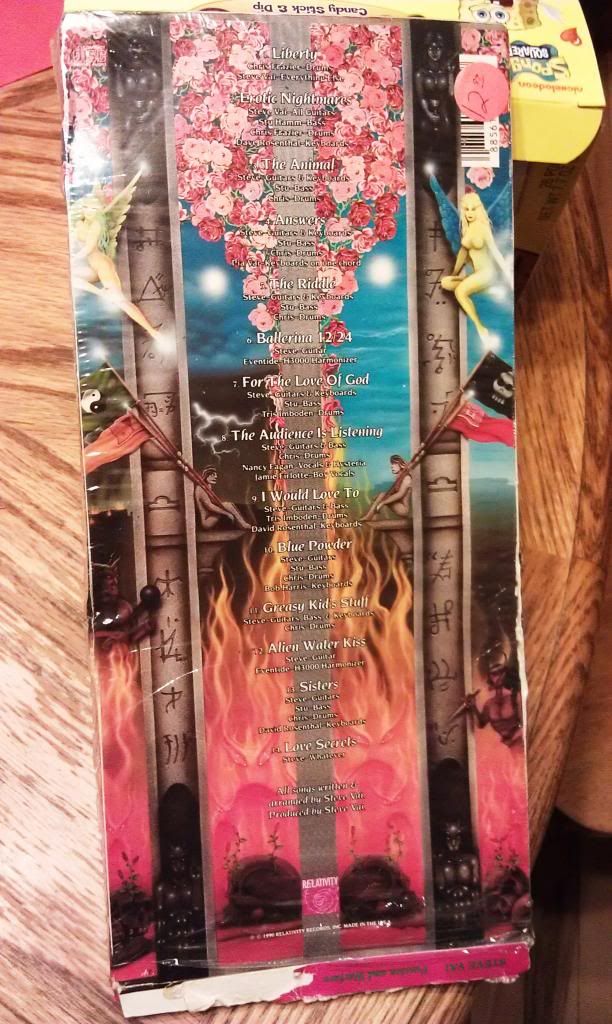 ---
Member

Posts: 104
Joined: Tue Sep 18, 2012 4:37 pm
I remember lining up to buy the Eat Em & Smile CD when it hit the streets. Popping it in and going Whoa.. I knew they got a new lead guitar player, but who the heck is ripping out the bass lines. Hells yeah. Hard to believe this record is going to be 27 years old this year...
<a href="
http://www.youtube.com/watch?v=So0VO_2xzM0">Elephant
Gun </a>
Hmm. I guess links don't work on this forum?
---
---
Member

Posts: 104
Joined: Tue Sep 18, 2012 4:37 pm
Yep R1FSR, your link worked.

Thanks

Had that song stuck in my head all morning..
---