The Crossroad of Zappa and Lovett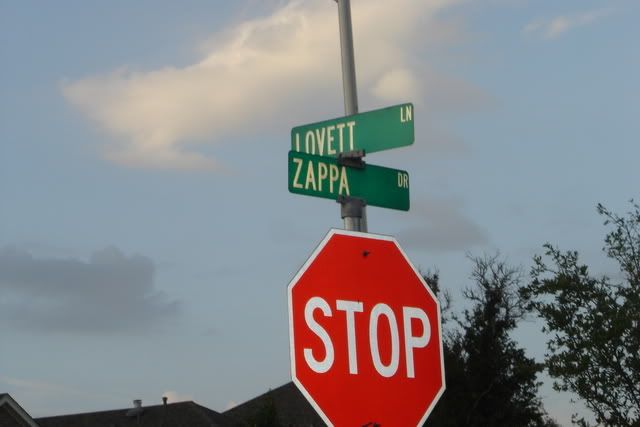 Enjoy
FM
---
Member

Posts: 2970
Joined: Sun Jul 04, 2004 1:21 pm
Location: netherlands noord brabant
Contact:
hey felix brotha...how you doing?
thanx for sharing this one!
---
---
Member

Posts: 1165
Joined: Sat Dec 18, 2004 4:18 am
Location: Australia
where you been boi, he gone changed his name to scratch.
---
---
Thanks all.... I was actually driving and my wife said look at that home on Zappa Dr. I then said "Did you just say Zappa?"
Next I stopped all traffic, got out of the car, and took a picture
Ends up being that all the roads in the community were based on musicians. No Vai though.... maybe they'll add him in
--FM
---
Wow!!!
Great picture. Thanks!!!
Btw, I'm going to New York. Does someone know if there are any place that have some Zappa related place? Maybe a place where Zappa have played or something.
Thanks in advance
Seraphim
---
Member

Posts: 1073
Joined: Thu May 01, 2003 5:15 pm
Location: Nebraska
Sweet pic! Two of my favorites! Frank Zappa and Lyle Lovett!
http://www.youtube.com/watch?v=B-_W18CW ... ed&search=
Sweet hair!
---
LOL Great Pic dude!!!
---
---